PopeWAFFEN!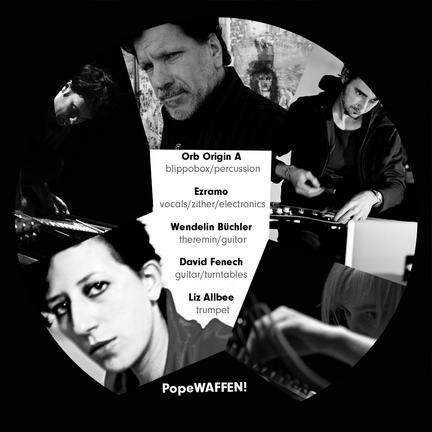 PopeWAFFEN!
Ezramo (I) – vocals / zither / electronics
David Fenech (F) – guitars / toys / turntable
Orb Origin A (USA) – blippobox / percussion
Wendelin Büchler (D) – guitars / theremin
Liz Allbee (USA) – trumpet
The work of the five musicians and performance artists from Germany, Italy, France and USA is settled between Weird Pop, Avanttrash, Free Improvised Music, Mediterranean Folklore and Noise Drones.
As the artists are coming from different social and musical backgrounds, the show will be performed not just as a mix of sounds and names but as a creation of unique and exciting experiences
The ausland show will be released on LP in Autumn 2010.
www.ezramo.com
www.myspace.com/lizzallbee
www.myspace.com/zeitfenstermusic
www.myspace.com/davidfenech