PROCESS Festival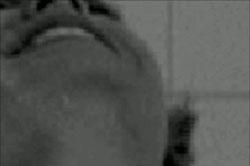 PROCESS
is a 2 day festival focusing on the sound of systems. Terms like 'process-driven' and 'generative' are expanded to include live performances based on breath, a train-yard video that generates rhythms dynamically, and a large metal 'drop machine' which emulates electronics, with no electronics. The program features two evenings of live performances and new-media works, a workshop and a special internet commission.
Both evenings start at 8:30 sharp. Live performances alternate with new-media works available on laptop.

Curated by Luke Munn and Will Gresson
Bicycle Built for Two Thousand
Aaron Koblin and Daniel Massey
USA
In 1962, the song "Daisy Bell" became famous as the first example of musical speech synthesis. For "Bicycle" Koblin and Massey reversed this process, splitting the song up into syllables and outsourcing it to 2,088 workers via Amazon's Mechanical Turk web service. The result is a strange, staggered lullaby sung by the masses, which comments on the shifting landscapes of globalised labor and technology.
Breath
Daniel Jenatsch and Samuel Forsythe (with performance group)
Frankfurt, Germany and Berlin, Germany
This collective performance will be based on Jenatsch and Forythe's workshop of the same name, exploring breath as a system: "the tidal in/out, the metered and the asymmetrical, the expansion and contraction of one of the principal rhythms of the body." Replacing sound generators with lungs, and using parameters such as aerobic activity, Breath is a compelling investigation into physicality, minimalism and group action.
Rim Shivers
Luke Munn
Berlin, Germany
This real-time audiovisual work creates a composition based on earthquakes in 8 major pacific rim cities over the last year: Tokyo, Hong-Kong, Lima, Auckland, Los Angeles, Santiago, San Francisco and Manila. Sonified with percussion, the data is translated to metallic scrapes, clanks and low booms in a surprising piece which reveals the chaos - and the patterns - in the earth's cycles.
51.22, 12.77, 01
Annette Krebs
Berlin, Germany
Performed by Johnny Chang
The concert space itself becomes the basis of this unique, site-specific composition for violin and CD playback. Each sound and tone is identified by the performer and collected to form an acoustic resource pool which is subjected to a set of rules. A compelling work exploring location and the environment by a prolific composer and performer.
Are you looking at me?
Richard Stevens + Dave Raybould
Leeds, UK
In this work, Stevens and Raybould tracked the eye's movements while watching a series of classic film scenes, using the data to re-frame both the audio and visual material. From "Taxi Driver" to "The Shining" and "Singing in the Rain", the pieces flick from a kiss to a lit cigarette, the turn of a door, or a mouth voicing a famous one-liner - with a jittery, nervous audio soundtrack mirroring the frenetic visuals.
we do the same things but I'm always different
Scott McLaughlin
Huddersfield, UK
In this piece for two single-reed instruments, players follow a simple set of interaction rules, oscillating between 'complimenting and contradicting' one another. A custom algorithm from McLaughlin forms the third instrument - breeding new timbres based on the real-time performance and feeding it back into the piece. A compelling work blurring the line between input and output, digital and organic.
Special Events
Eric Laska
Pro Remote
New York City, USA
In this special internet-based work for Process, sound-artist Eric Laska gets at the heart of one of our most common electronic systems: the laptop. Subverting it's usual role as processor or playback device, Laska will directly capture the subtle, inner workings of the laptop and stream the result online over the festival's 2 day period. A long-form, minimal piece which subtly pulls apart notions such as narrative and physicality.
Daniel Jenatsch and Samuel Forsythe
Breath Workshop
Berlin, Germany and Frankfurt, Germany
A free workshop for Jenatsch and Forythe's performance of the same name, where the group will explore breath as a system. Over the course of the afternoon, participants will work through the concepts, structure, and form of the piece, contributing their individual breaths to the chorus, which will perform the same evening. Don't miss this practical, engaging exploration of one of the principal rhythms of the body, and an opportunity to contribute to an exciting music work.
www.processfestival.com