PUNCTUM TAPES: JANO DOE / BLACK ACID / VIDA VOJIC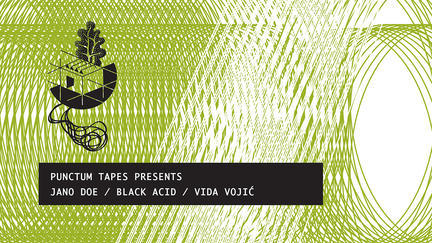 Jano Doe - DIY Electronic
Black Acid - Cello, Electronic
Vida Vojic - Electronic, Voice

Doors 20:00, concerts 21:00 | 8 € | @facebook

International musical event celebrating the Vida Vojić / Black Acid split tape release. Punctum Tapes is leaving the comforts of its Prague stronghold for a
outing in Ausland. Come early for a night of quadrophonic sound and experimental music by 3 amazing foreign musicians. The night features sets by Jano Doe, Black Acid (a.k.a. Nina Pixel) and Vida Vojić.
After the show, label caretaker, Teapot will be serving up fresh brews of tea and vending tapes from the Punctum Distro.

Jano Doe uses homebuilt electronics to create sounds exploring limits of our auditory perception, incorporating extreme frequencies, volumes and sound event timescales, frequently crossing the barrier to physical sound perception. This sound is defined by inversions, creating the notion that the instrument is controlling the instrumentalist and where the formally sonorous becomes a representation of electrical, physical phenomena even before it is sound. Using intuitively conceived module arrangements, chaotic systems with fragile equilibria occur, always sweeping closer to the catastrophe point.
link: soundcloud

Black Acid is a live dark ambient noise multilayer macro micro post-archeology project from Nina Pixel. Digging deep into her own memories, uncovering the layers of forgotten pains, pointing light to the dark corners of emotional abysses, Nina is building her own archeological collection of her own world as a reflection on the world outside "us". Nina has been exploring humans as the phenomenon, recording talks, poems, diary notes, bodies, expressions, thoughts and layering it with the "research" material collected everywhere where she goes. This is the research of the Emotional Intelligence aspect as the special superpower of humans - an object of her long term plannetary study.
Black Acid is the darkness eating you.
From the inside.
When you are not watching. It is you.
It is your fear you are running from.
It is your pain you chained deep down inside.
It is the poison you cannot resist.
It is you.
It is me.
links: website, soundcloud

Vida Vojic, Berlin-based sound artist, electronic musician, poet, performer, producer, DJ etc…
"Unconsciously, I ended up in sound to express the invisible inside. Everything interconnected, a feeling in my chest turned into a tone, grew into a new world. I aim for purity - what is suppressed underneath the intellect. It is a physical reaction to the confrontation of myself, removing the barriers between me and the reflection of me - the sound. The biggest loss is to forget to feel. I seek to get as close to feelings as possible, without the need of explanation in-between, leaving an open end to the expression. Perhaps that is when thinking becomes irrelevant, and listening becomes something that you do with your body first, and thought secondly."
links: website, soundcloud