Radula /// Drunk at your Wedding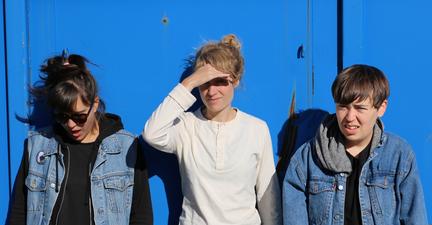 amSTARt präsentiert:
RADULA
Ella Blixt (bs) - Hillevi Duus (dr) - Tove Möller (git)
Berlin Debut show & EP-Release
facebook.com/radulapower
support: DRUNK AT YOUR WEDDING
soundcloud.com/drunk-at-your-wedding
+ DJ Inexpressible Island
Doors 20:00, Start 21:00 | @facebook
pre-sale @ koka36: 10 EUR | door: 12 EUR
Radula is Hillevi Duus on drums (also a member of the bands Hunt and Growth), Tove Möller on electric guitar (member of the folk-pop duo To All My Friends) and Ella Blixt on bass guitar (member of pop bands as It's A Musical, Bobby and Blumm, Nikita and Bobby Baby). Some years back Ella and Tove lived in Berlin doing music and Ella has toured as support act with bands as Tocotronic, Whitest Boy Alive and as a musician with Masha Qrella. All three have strong Germany connections and have been touring a lot with different bands. But this is the first Radula tour in Germany to celebrate their greatness and a new release*!
To some people, Radula is known to be an anatomical structure that is used by molluscs for feeding. To others Radula is the friend of a friend they meet in an empty bar on a Tuesday night. On Wednesdays she usually puts on a song and dances, not for you, just for you to see. On Fridays she stakes your heart with a guitar and screams into your ear that it's now or never. To most people she seems dramatic or desperate or even naive. Her words could belong to a sixteen year old just fallen in and out of love but her eyes indicates a larger number of love stories. And as the world outside the bar is changing, who cares to talk about it?
Radula is your friend of a friend starting a band in a basement of Stockholm. Radula is a struggle against everything we were taught that we can not do. Radula is shutting the basement door and grabbing eachothers hands in doubting, learning, laughing, growing and becoming. Radula is therapy. Radula is ecstasy. Radula is friendship. Radula is everything.
We are Radula. We play screaming indie pop with crying guitars in a dark room with naive melodies. We sing with all our voices but sometimes let the drum beat tell the joke. The songs might remind you of something you heard in a car stereo twenty-five years ago when you still dreamt about the sunny west coast, wore bangs and your sisters worn out t-shirt. But you stayed where you are and soon before the millennium new people were born that grew up and now when it's their turn to hit the sticky big city club floors the tunes might all sound new. And when the young adults dream of other suns on other distant coasts, we'd like to play for them.
Over the past few years Berlin-based outfit Drunk at your Wedding has gone through different incarnations, being either a duo or a solo project.
For now it's a solo affair again. But the musical core remains the same: folky, sometimes noisy indie tunes with a soft spot for gloomy tales and self mockery.