raudio aasland 2010 #1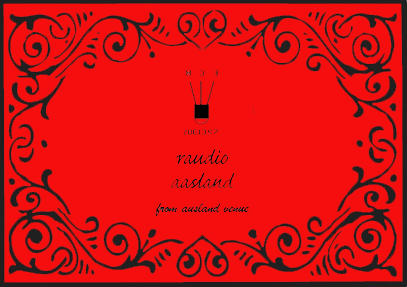 raudio aasland is a radio series by the berliner venue for experimental music, performance, art and theory ausland. this series was invented 2004, for the 3 month long radio project from bootlab e.v. called reboot.fm, had one show on resonance fm and various other shows with other berliner radioprojects, last on herbstradio.
the content of raudio aasland ranges from music collections, dj sets, interviews with artists and live concerts to radio plays, social interactions, abnormal features and concept art.
june - DT64 - Fokus 89 "Die große Freitheit schon vorbei" ein aufgezeichnetes Gespräch mit dem ersten und einzigen gewählten Indendanten des Staatsradios der DDR und einem Kollegen von RIAS.
Die zwei bei den Hörern beliebtesten Radios werden im Wendezusammenhang abgewickelt und die Verteilung der freien Frequenzen erfolgt höchst undemokratisch. Das ist das allgemeine Vorgehen wärend der Wendezeit, Mauschelei und besagtes undemokratisches Verhalten ist nicht allein DDR Realität, sondern im Westen ebenso gang und gebe.
Das Gespräch fand statt bei der Veranstaltung "DT64 Fokus 89 - ein Hörsaal" am 30.05.09
weitere Sendungen 21. Juli und 18. August 2010
Die Sendungen sind nachzuhören auf www.reboot.fm als Podcast -- auf dem Sendeplatz.