raudio aasland 2010 #2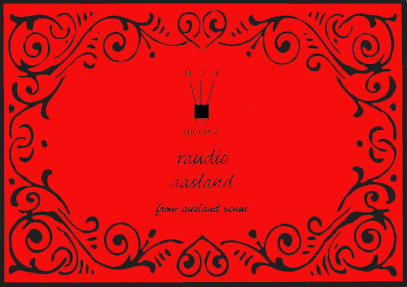 LISTEN TO THE PODCAST OF THIS PROGRAMME ON
soundcloud.com/rebootfm/raudio-aasland-2-in-der-welt
raudio aasland is a radio series by the berliner venue for experimental music, performance, art and theory ausland. this series was invented 2004, for the 3 month long radio project from bootlab e.v. called reboot.fm, had one show on resonance fm and various other shows with other berliner radioprojects, last on herbstradio.
the content of raudio aasland ranges from music collections, dj sets, interviews with artists and live concerts to radio plays, social interactions, abnormal features and concept art.
july - raudio aasland in der WELT. Klänge von fernab, Musik und Geräusche am Rande der Öffentlichkeit aus Buenos Aires, Thailand und China.
nächste Sendung 18. August 2010
Die Sendungen sind nachzuhören auf www.reboot.fm als Podcast -- auf dem Sendeplatz.