Record Release Roger Döring & Konrad Korabiewski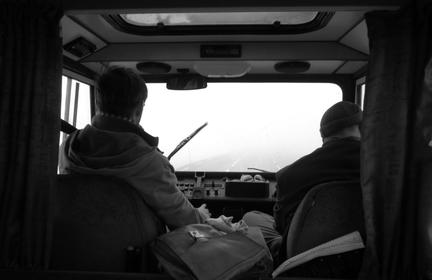 Komplex, release concert
Roger Döring (de)
(clarinet, saxofon, bariton, accordion and more)
& Konrad Korabiewski (pl/dk/is/de)
(live electronics)
Komplex is a forthcoming vinyl album by Roger Döring (Dictaphone/Moser/Meyer/Döring) and the award-winning multimedia artist Konrad Korabiewski, released by the German sound art label Gruenrekorder.
The project was created over two years in Seyðisfjörður, Iceland and in Berlin, and is an evolving conversation between Döring's improvisation on acoustic instruments such as clarinet, trombone, and saxophones, Korabiewski's electronic live treatment and composition of Döring's sound, and the particular acoustics of the recordings sites, which included a former herring factory by the sea in east Iceland. Musically Komplex moves seamlessly between ethereal ambient melodies or a somber, churning low end, or a hypnotic looping reverie that slowly disintegrates as if under the burr and scratch of a gramophone needle. The result is a highly expressive, dark, and deeply felt album, reflective of shifting emotional states and uneasy dreams from the north.
In concert, Döring and Korabiewski deepen their musical dialogue, using live electronics to treat and highlight the physicality of acoustic improvisations on clarinet, saxophone, and accordion.

links:
Konrad Korabiewski (http://korabiewski.com)
Roger Döring (http://www.dictaphone-music.de)
Gruenrekorder (http://www.gruenrekorder.de/)
video:
Icelandic fimartist Kristján Loðmfjörð created a video work for the composition Flucht from the new album by Roger Döring & Konrad Korabiewski titled Komplex . A signature meditation on the grain of the far northern landscape as counterpart to the grain of Döring's horn.

Bio Konrad Korabiewski:
Polish | Danish | Iceladic Konrad Korabiewski (1978), is s an award-winning multimedia artist, currently in the Berliner Künstlerprogramm des DAAD residency.
As a sound-artist, composer and media artist, Konrad Korabiewski has a minimalist, yet detail-oriented unconventional and experimental artistic approach, characterized by a marked tendency to transgress various genres and media.
Focused on absorption, content and substance of art rather than a certain media, he experiments and develops new possibilities for sensing and expressing philosophical views and artistic ideologies. This is also highly visible at Korabiewskis live performances, where he involves other actors and medias to add layers and new dimensions to his music, sound and radio art pieces, installations and videoworks. As with his pioneering and prize awarded crossover, interactive art-book project Affected As Only A Human Being Can Be (2010) with the mixed media artist Litten.
Konrad Korabiewski is a founder and currently director of Skálar – Centre for Sound Art and Experimental Music in Iceland, and he holds a Master degree in Electronic Music Composition from The Royal Academy of Music, Aarhus, Denmark.
Bio Roger Döring:
Roger Döring (born 1961) in West Berlin, Germany.
Since 1980, musician and actor in film and theater. Multi Instrumentalist. Since 1999 member of the German duo Dictaphone.
Along with Rudu Moser (Einstürzende Neubauten) form of art music project Orchestra Obscure and Moser / Meyer / Döring.
Incidentally permanently assigned as a musician on projects in particular with the Japanese guitarist and composer Takeshi Nishimoto (http://www.takeshinishimoto.com), the German instrumental / ambient composer Marsen Jules (http://www.marsenjules.de ), and with the world renowned Butoh Swiss dancer Imre Thormann (http://playberlin.com/2010/10/imre-thormann). Currently working with the Polish /Danish Icelandic sound and media artist Konrad Korabiewski.
http://www.dictaphone-music.de
Music for film (selection)
2001 – "99 Euro" af Esther Gronenborn
2002 – "Väter" - af Dani Levy
2003 – "Poems" – af Ralph Schmerberg
2008- "Nosferatu" (Marsen Jules version)
2010 - "Problema" by Ralf Schmerberg
Music for theater and dance (selection)
2001 - Alex B - "Graceland"
2003 - Alex B / Dictaphone - "Me Myself and I"
2005 - Felix Ruckert – "Tokyo / Tools" (Tokyo Star Ballet)
2006 - Kurt Schwitters – "Zusammenstoss"
2008 - Imre Thormann – "Lesung und Bewegung"
2010 - Imre Thormann - "Voyager"
selected concerts:
Berlin / Germany (Transmediale Festival 2004)
Belgrade / Serbia (Dis-Patch Festival 2004)
Tokyo / Japan (2005, 2007, 2008)
Milano / Italy (Milano film festival)
Moscow / Russia (2010