Relentless
Submitted by
Mathias
on Tue, 2010-07-20 21:43.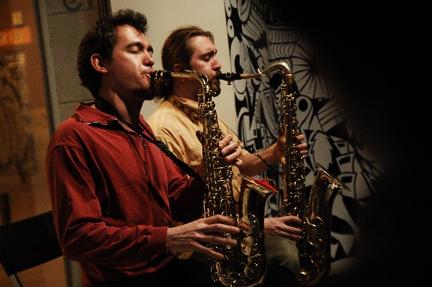 Relentless: Sébastien Branche (France) / Artur Vidal (Spain) - saxofones
Relentless is an experimental sound creation project based on saxophone. Coming from free improvisation, their current proposals are focused on different practices of sound art. Specificities of the performance space, exploration of our musical instruments and ways to relate with the public
are the foundations of their work. For the past few years, they have been looking into the relations between dancing, video and improvised music. Relentless is, in a way, the sound layer that settled through these investigations. Long tones, circular breathing, multiphonics, objects, are some recurring elements always renewed in a dialog between an idiom that settles through practice, and the necessity to improvise to create a music that takes into account each sound and each instant in its composition.
Sébastien Branche:
Sébastien plays soprano, tenor and C-melody saxophones. He got started with improvisation through workshops with musicians coming from contemporary jazz or improvised music.
Interested in perceptive phenomenons, he works mainly with the sound as a material, describing himself as a "sound crafter" for an audience to listen to. His interests also extends to body and space, as he regularly confront his practice with contemporary dancers.
Artur Vidal:
Grew up in France (Paris) where he studied history of art in the university and music with Francisco Lopez, Lê Quan Nihn and Fred Frith among many other internationally renowned artists. His sonic art works are based on field-recordings, dance performances, site specific works and improvised music. For the last two years he has been living and working in Paris, Madrid and Mexico city.