(re)Shaping Jazz to Come // vol 2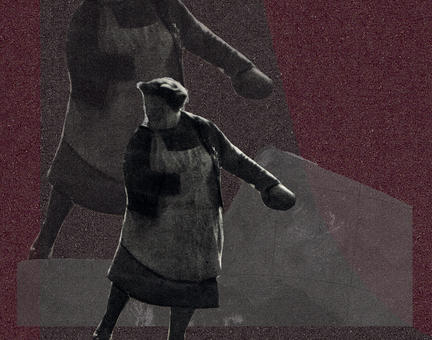 Ragnhild May (wind whistles, electronics) in dialogue with Roland Kirk's Here Comes the Whistle Man (1965)
-----
Anna Kaluza (saxophone) + Rieko Okuda (keyboards) + Alison Blunt (violin) in dialogue with Ornette Coleman's The Shape of Jazz To Come (1959)
----
Margareth Kammerer (voice) + Sabine Erklentz (trumpet, electronics, voice) + Lucile Desamory in dialogue with Sun Ra's Space is the Place (1973)
plus radio programming by SissiFM
** Funded by Senatsverwaltung für Kultur und Europe, Künstlerinnenprogramm
Vol 3 - 25/11/2017
+++
"(re)Shaping Jazz to Come: Dialogues with Recordings from the Music's Past" commissions artists to conceptualize a performative work and/or collection of ideas that function in dialogue with a recording from jazz history, to consider not only the recording's sound and musical character but also the cultural forces that helped make these sounds possible and how those forces might be reflected upon today. We hope artists don't necessarily 'play' jazz, but rather think about it, explore it, reflect upon it - whether these thoughts involve issues of gender, race, authenticity, hierarchy, or simply "sound" - and consider how these sentiments might be relevant and (re)shaped today.
+++
Artist info:
https://akaluza.wordpress.com/
https://ausland-berlin.de/rieko-okuda
http://alisonblunt.com/Home.html
http://femmes-savantes.net/lesfemmessavantes/sabine-ercklentz/
http://sissifm-radio-f.tumblr.com/
+++
* Background Roland Kirk Here Comes The Whistle Man (1965)
https://www.allaboutjazz.com/roland-kirk-here-comes-the-whistleman-roland-kirk-by-duncan-heining.php
* Background Ornette Coleman's The Shape of Jazz To Come (1959)
With 'The Shape of Jazz to Come' - and in particular the track 'Lonely Woman' - Ornette Coleman challenged the conventional be-bop practices characterizing modern jazz in the mid-20th century. The openness of his compositions, the chord-less nature of his ensemble, the out-of-tune melodies and sometimes-sloppy ensemble sections went against what was so valued for be-bop: virtuosic solos over complex chord changes, played at staggering tempos to display obvious technical mastery. Furthermore, Coleman was a vegetarian and frequently noted his asexual dispositions (he once joked about his own castration) - he certainly didn't fit comfortably into the hip vision of the bebop musician (see him on his album cover, in knit sweater and collared shirt, looking more like college freshman than downtown jazz musician). This album helped codify a free jazz language that would develop in coming decades.
https://en.wikipedia.org/wiki/The_Shape_of_Jazz_to_Come
* Background Sun Ra Space is the Place (1973)
https://en.wikipedia.org/wiki/Sun_Ra
https://www.allmusic.com/album/space-is-the-place-mw0000035233
From the artists:
"Change your time for the unknown factor.
The unknown is immeasurable and never passes away.
The unknown is eternal because you will never know what it is all about." Sun Ra
Sissi FM @ Reshaping Jazz
plays recordings which are put into dialogue as part of the festival
as well as recordings which are not, ponders about who re-shapes jazz and who
doesn´t, follows and meanders on pathways of it´s own and visits
some of the artists on their journey through jazz history up to the
present.