ROBBIE AVENAIM
Submitted by Anonymous on Tue, 2009-08-04 18:34.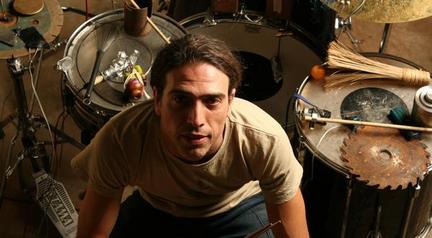 Robbie Avenaim, vor allem als Co-Direktor des australischen "What is Music?" Touring Festivals bekannt, hat mit seiner unnachgiebigen Fantasie und Leidenschaft für den Sound des Underground eine neue Generation australischer Musiker beeinflusst. In seinem Berlin Debüt wird uns Avenaim mit einer ca 2 stündigen Performance und Installation wilder und ausgedehnter Perkussion mitreissen.
http://www.robbieavenaim.com/home.html
ENG: Since 1989, ROBBIE AVENAIM has gained a reputation as one of the world's leading experimental drummers and sound artists. His passion is for the unconventional. He has established himself in the international community of experimental musicians and improvisers. Like his peers, he takes music to much more personal and challenging realms, involving instrument building, electronics, and spontaneous collaboration. He is one of the founders and organisers of Australia's largest experimental music festival "WHAT IS MUSIC?" which has been running since 1994.