Robert Piotrowicz
Submitted by Anonymous on Fri, 2013-03-15 14:32.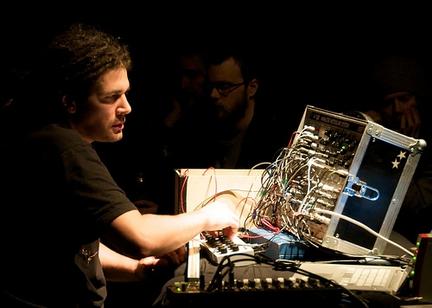 Robert Piotrowicz: sound artist, composer, improviser.
Co-founder of the Musica Genera Festival and the Musica Genera label.
He has authored radio dramas, sound installations, and music for theatre productions, and collaborates regularly with other artists on audio-visual performances. As an instrumentalist, Piotrowicz works mainly with his own live performance setup, developed around the electric guitar and analogue modular synthesiser. His music has as much in common with contemporary electro-acoustic compositions as it does with sound art. His concerts feature saturated, detailed musical forms created with analogue synthesizers and computers. He has developed his trademark sound of intense dynamics seized in dramatic and balanced structures.
Piotrowicz has released several solo albums as well as collaborations with artists such as Burkhard Stangl, Anna Zaradny, Jérôme Noetinger, C. Spencer Yeh and Kevin Drumm. Other collaborators in recent years included Valerio Tricoli, Oren Ambarchi, Martin Klapper, Zbigniew Karkowski, Łukasz Szałankiewicz, Lasse Marhaug, John Hegre, Kasper Toepltz, Xavier Charles,Tony Buck and others.
Piotrowicz has given live performances throughout Europe, North & Central America, Japan and Australia.