Sandra Weiss
Submitted by
Mathias
on Tue, 2016-04-26 01:52.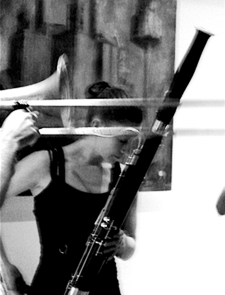 Sandra Weiss – saxophone & bassoon / Zürich
Sandra Weiss, born in South Africa, studied saxophone at Berklee College of Music in Boston with Andy McGhee and at Zürcher Hochschule der Künste in Zürich with Christoph Grab and Nathanael Su. She studied bassoon at Musikhochschule Lucerne with Stefan Buri. During the last years she played in various musical projects playing folk music, classical music, jazz, experimental and improvised music. For the year 2014, she got the 6 month 'Auslandatelier Stipendium New York' (residency in New York City) from the culture departement of Zürich. Current projects are her own quintet SWQ with Jonathan Moritz, Kenny Warren, Sean Ali and Carlo Costa(the Cd, SWQ "Ramble", came out on Leo Records in August 2015). She's part of various collective bands, such as Duo Kodra with Coralie Lonfat, Evi Beast - INKlings with Coralie Lonfat & Céline-Giulia Voser and Evi Beast - Koï with CL, Béatrice Graf and Delphine Depres(live video). As a side musician she's playing with the Sophie Lüssi Quartet, with the Frantz Loriot Notebook Large Ensemble and since autumn 2015 she's part of the Insub Meta Orchestra (founded by Cyril Bondi & d'incise).