screen banditas future ruins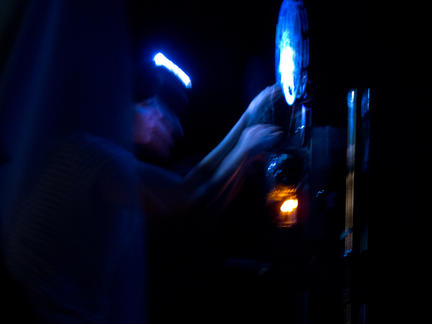 Future
Ruins
The conversation began in Glasgow, May 2015.
A mysterious, degraded film reel was unearthed. Inside the can we found
half-legible written instructions, interference, repetition, distorted
voices from.... where. The future?
A new analogue found and handmade film, sound and spoken word performance
that has travelled across the seas from Scotland to Australia and back
again, to settle in Berlin.
Join us on the 10th December to help us decipher these cryptic messages and
imagine into being this lost film.

Screen
Banditas
are Lydia Beilby and Leanora Olmi from Edinburgh and Melbourne. The duo create performative live-cinema works using archive, found 8mm and 16mm film, slides, photography and ephemera as source materials, to connect elemental links with the past and the presence, wherein they create their new participatory pieces. Each of their performances is created for the space it happens in, and therefore can not be repeated. They say: "We hope to capture and expose a few of the many facets of the visual image, the beautiful and the banal, and all that exists between them."