Seth Faergolzia & Heck Yup // KNU!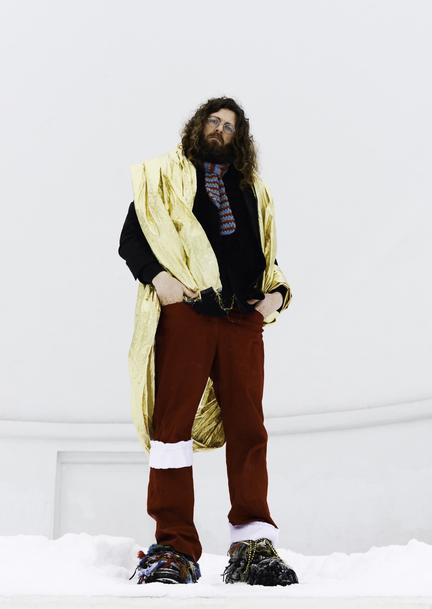 SETH FAERGOLZIA & his band HECK YUP
... presenting Seth's first completely solo album "Doubting won't do" on their Tour throughout Europe! - "Frantic fever-dream folk slashed through with rock stabs." The Onion
... finest full blast free form post-jazz trio from the Ruhrgebiet, heating up the stage for Seth & bringing their fresh 7" with them!
Doors 20:30 - Start 21:30
Ever since his days as the mastermind behind critically-acclaimed avant-boho outfit DUFUS, Seth Faergolzia has blazed colorful trails into modes of expression one couldn't have foreseen even as Dufus were being hailed as "freak folk" innovators.
When Faergolzia first emerged out of lower Manhattan at the turn of the millennium, he cut quite the figure as a trailblazing artist committed to pursuing his vision on the fringe of the fringes, quickly distinguishing himself as a visionary with an entertainer's flair and a penchant for bending minds. Naturally, the surface absurdism of his output drew comparisons to likeminded iconoclasts like Captain Beefheart, Zappa, Ween, and Mr. Bungle. But, Faergolzia has come to represent a genre unto himself, the labyrinthine pathways of his inspiration delighting audiences and collaborators alike.
The new album, "Doubting Won't Do" includes solo acoustic songs and new loop material, both personal and complex in production and includes artwork by friend and collaborator, Adam Green of the Moldy Peaches.
In the new live show, taking the stage as a one-man tornado of sound, Faergolzia will draw from new material, electronic samples, loops, improvisations, and choice selections from the Dufus vault with his backing band, Heck Yup (which includes tuba, electric guitar, percussion, glockenspiel and keyboards). -- a full and varied cross-section of the matchless oddball muse that has delighted audiences, collaborators, and critics alike for over a decade.
Find out more on: YouTube | Bandcamp | Facebook
"Kind and Scary."
Spex
"Phenomenal live."
NME
"Speaking in tongues on top of complex musical phrases, the inspiring frontman of Dufus makes music like nobody else. Often impenetrable and uniquely original, his rightful place is beside Captain Beefheart and Zappa."
Adam Green, the Moldy Peaches
"As giddy and inventive as it is pissed off, it's the 21st-century equivalent of the Fugs at their finest."
Village Voice
"I have never heard anything like this before or since."
Pop Matters
"They took that saucepan and spoon and wrote a textured and intense opera… 9 of 10."
Vice
KNU!
-Anarchie und Gesellschaft-
...are: ACHIM KÄMPER - electronics // FLORIAN WALTER - sax, elektronics //
SIMON CAMATTA - drums
KNU! tritt im Dschungel der Postmoderne an, die Musik vom Kopf in den Bauch zurück zu holen. Hart, stumpf und rough, aber immer fokussiert und miteinander. Fuck Meta, keine Feinkost, trotzdem bewusst genießen! KNU @ Bandcamp