Silvia Tarozzi
Submitted by
Mathias
on Tue, 2016-08-02 15:45.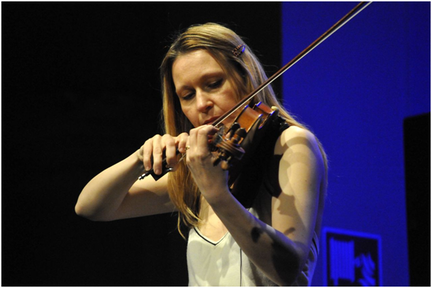 Silvia Tarozzi is a violinist, performer and improviser. Her research on sound and instrumental gestures, fuelled by her own experience as an improviser, finds expression through several collaborations with composers like Pascale Criton, Éliane Radigue, Cassandra Miller, Pierre-Yves Macé, Pauline Oliveros.
She writes music for her own musical projects.
She plays violin with the Ensemble Dedalus (FR), which boasts collaborations with many American and European composers (Christian Wolff, Tom Johnson, Alvin Lucier, Phill Niblock, Jürg Frey, Michael Pisaro, Jean-Luc Guionnet, Tim Parkinson etc.).
She plays in a duo with Massimo Simonini (prepared theremin) and collaborated with him in writing and performing the music for the show "L'uccello di fuoco" by Chiara Guidi (Socìetas Raffaello Sanzio).
In 2010 she started a collaboration with composer Pascale Criton on the composition "Circle Process", for microtonal violin which has been performed at many Festivals in Europe (Musique Action Festival, Biennale Venezia Musica, Festival Why Note?, among others). In 2014 a new piece for violin and cello "Bothsways" was created for the broadcast "Alla Breve" on France Musique Radio.
Since 2011 she collaborates with composer Éliane Radigue. In 2012 she performed the world premiere of "Occam II" for solo violin and "Occam Delta I" for quartet and after that many other chamber pieces (taking part of the cycle "Occam") was created since now.
Since 2003 she plays with cellist Deborah Walker, exploring musical forms on the borderline between composition and improvisation. Tim Parkinson, Philip Corner, Sebastien Roux, P.Criton, É. Radigue composed pieces for the duo. In 2016 it began a new collaboration with the harpist Rhodri Davies.
In May 2014 the solo cd "Virgin Violin" was realized and produced by "I dischi di Angelica" that includes musics dedicated to her by Pauline Oliveros, Pascale Criton and Éliane Radigue.
Since 2012, she coordinates the activities of the "Piccolo Coro Angelico" children choir: a workshop of vocal and musical experimentation for children, held at the Centro di Ricerca Musicale – Teatro San Leonardo (Bologna, IT). The choir collaborated and/or performed musics by Giovanna Marini, Alvin Curran, Philip Corner, Malcolm Goldstein, Tristan Honsinger, Sean Bergin, Moondog, Luciano Berio and created many original compositions.