Skyneedle + Mad Nanna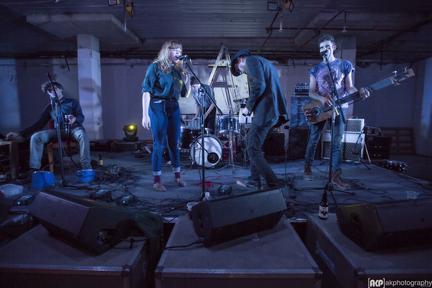 SKY NEEDLE are a band of humans living in Brisbane, Melbourne and Kyogle, Australia. They were founded in 2009 at the foot of the Brisbane 'sky needle', a strange architectural extravagance left inexplicably derelict since its construction for world expo 88. In honour of this giant phallic absurdity, Sky Needle vowed to only perform using their own home-made instruments.
Sky Needle's first record, the self released Time Hammer, was also the band's first jam. Alex Cuffe played a wooden speaker box with amplified bass strings. Joel Stern played two foot pump controlled latex horns. Ross Manning played an elastic dustpan. This first meeting set the template for a sound that is at once primitive, hypnotic and dementedly funky. Sarah Byrne soon joined as the lungs of the group, ululating wordlessly over the next release, Neckliner on the Albert's Basement label. The singles Creepertown and Acid Perm followed in quick succesion followed by Sky Needle's debut LP on Negative Guest List, Rave Cave.
In 2012, Sky Needle extended into a collective with new family members Michael Donnelly, Glen Schenau and Daniel Von Jenatsch on various invented and found instruments. In late 2013 Sky Needle will embark on their first European tour, performing in UK, Holland, Belgium, Germany and Scandinavia.
Listen to Skyneedle
http://skyneedle.bandcamp.com/
Mad Nanna Based on many of the same tropes that made first generation Flying Nun bands so immaculate, Mad Nanna's obtuse lo-fi-ness pushes things into a very special place." - Byron Coley
"Profoundly strung out, idiotically moving" - Volcanic Tongue
Hijos de La Fiera / Hijos de La Fiera