Soundscoop Brandenburg: The Railway Crossing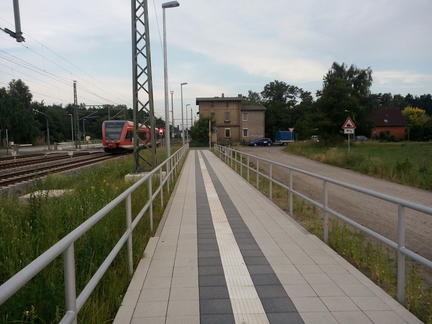 Nassenheide is a small village located 40 km north of central Berlin. A sometimes busy traffic junction determines the local soundscape: The main railway line from Berlin to the ports on the Baltic Sea cuts across a local road which is a byway for trucks driving from east
to west, maybe headed towards Hamburg or Rotterdam.
Countless times, every day and every night, a signal bell starts ringing at the crossing gate. The gate closes - cars and trucks approach and stop. The traffic noise is interrupted and the soundscape suddenly changes: Birds, muffled music from cars, idling engines, occasional voices, cicadas. Finally the train passes, creating an acoustic climax.
Over the years, we have been exposed to these sounds which have changed with the modernisation of the railway tracks: Rhythmic sound clusters of train wheels on steel, monotonous sounds of tires rumbling over the tarmac road and the rail tracks, pop music from car radios (Peter Fox forever), the signal bell changing from analogue to digital (2thousandfucking12).
Time to give some sounds back.
And add Hong Kong sounds to the local soundscape, create a mix of Nassenheide and Hong Kong sounds. Nothing to hide (from your ears).
time: 4-7pm + 9-12pm