Splitter Orchester: Splitters and Lumpers (2014)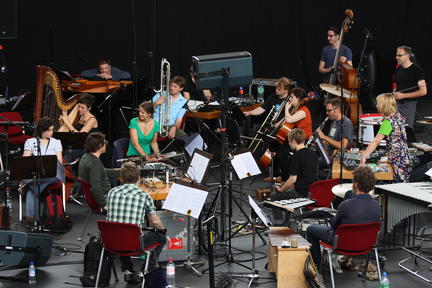 Langenbeck-Virchow-Haus, Luisenstr. 58/59, 10117 Berlin
Splitter Orchester: Splitters and Lumpers (2014)
In the second part of the evening's programme (first part: 19:00, Museum für Naturkunde), the Splitter Orchester presents a collective original composition with free improvisation at its base. Specifically developed during rehearsals, Splitter Orchester's compositions are structured improvisations with compositional elements. In addition to modifications that evolve organically, surprising musical turns always take place that are collectively captured and further developed. The title of the "Splitters and Lumpers" composition is borrowed from classification schemes in the natural sciences and refers symbolically to the categorization, examination and (re)production of sounds and sound objects. The musical structure of "Splitters and Lumpers" allows the audience to hear how a large ensemble without a conductor seems effortlessly to succeed in bundling 23 different artistic positions into a complete organic sound, which, in turn, represents a sonic category that is difficult to define. The diversity of sounds to be heard would delight any musical taxonomist and keep him/her busy for a long time.
Tickets and more Info under:
http://www.berlinerfestspiele.de/de/aktuell/festivals/maerzmusik/ueber_f...
Splitter Orchester:
Liz Allbee, trumpet
Boris Baltschun, computer, electronics
Burkhard Beins, percussion
Anthea Caddy, cello
Anat Cohavi, clarinet
Werner Dafeldecker, double bass, electronics
Mario de Vega, electronics
Axel Dörner, trumpet
Kai Fagaschinski, clarinet
Robin Hayward, tuba
Steve Heather, percussion, vibraphone
Chris Heenan, contrabass clarinet
Hilary Jeffery, trombone
Matthias Müller, trombone
Andrea Neuman, inside piano, mixer
Morten J. Olsen, percussion
Simon James Phillips, piano
Ignaz Schick, Turntable, live electronics, objects
Michael Thieke, clarinet
Clayton Thomas, double bass
Sabine Vogel, flutes, electronics
Biliana Voutchkova, violin
Marta Zapparoli, electronics, analog electronics
A production of ausland, Berliner Künstlerprogramm des DAAD, Berliner Festspiele / MaerzMusik and Borealis Festival Bergen. In collaboration with Museum für Naturkunde Berlin. Funded by means of the Capital Cultural Fund. With the support of Technical University Berlin – Audio Communication Group – Electronic Studio