Splitter Orchester @ WABE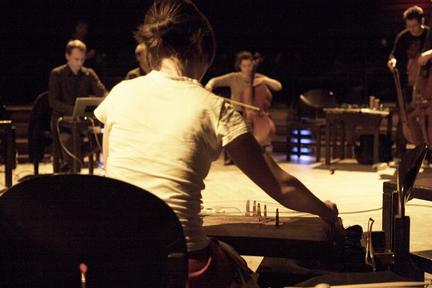 The SPLITTER ORCHESTER, the subtle beast of a 24 piece improvising outfit presents 8 public rehearsals/presentations @ WABE in 2011. 

Part concert, part public research event, the group will spend the afternoon preparing an hour of music for your listening pleasure/curiosity/confrontation. 


The concert starts punctually at 20:15 and we charge 5 euro.

WABE is in Danzigerstrasse 101. Take the Tram - M10!


SPLITTER ORCHESTER:
Liz Allbee (Trumpet), 
Boris Baltschun (Computer), 
Burkhard Beins (Percussion), 
Anthea Caddy (Cello), 
Clare Cooper (Harp & Guzheng), 
Anat Cohavi (Bass Clarinet, Soprano Sax), 
Werner Dafeldecker (Double Bass), 
Mario de Vega (Electronics), 
Axel Dörner (Trumpet), 
Kai Fagaschinski (Clarinet), 
Robin Hayward (Tuba), 
Steve Heather (Percussion), 
Chris Heenan (Contrabass Clarinet), 
Hilary Jeffery (Trombone), 
Matthias Müller (Trombone), 
Andrea Neumann (Inside Piano) 
Morten J. Olsen (Percussion), 
Penelopex (Field Recordings, Electronics), 
Simon James Phillips (Piano), 
Ignaz Schick (Turntable, Objects), 
Michael Thieke (Alto Clarinet, Clarinet), 
Clayton Thomas (Double Bass), 
Sabine Vogel (Flutes)