Streifenjunko
Submitted by Anonymous on Tue, 2009-08-04 18:47.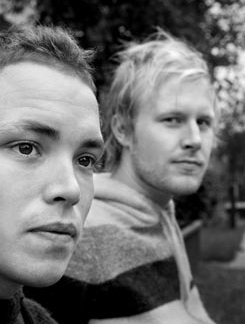 Das Duo Streifenjunko spielt energetische und fokussierte Musik in der seltenen Besetzung Tenor Saxophon und Trompete. Espen Reinertsen und Eivind Lønning benutzen ungewohnte instrumentale Techniken um einen Raumklang zu projizieren, den nichts umgibt. Sie haben mit Musikern wie Tetuzi Akiyama, Toshi Nakamura, Christian Wallumrød, Sidsel Endresen und Video Künstler Kjell Bjørgeengen zusammengearbeitet und Cds veröffentlicht und tourten bereits in Asien, Afrika und Europa.
EN: Streifenjunko makes vigorous music with the rare instrumentation of tenor saxophone and trumpet. Espen Reinertsen and Eivind Lønning apply uncommon instrumental techniques to project a spacious sound with nothing else around.