Subtle Lip Can
Submitted by
Mathias
on Wed, 2012-09-26 21:48.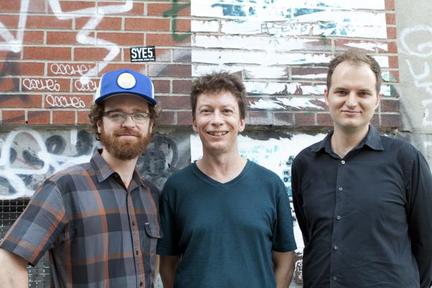 Bernard Falaise - guitar
Joshua Zubot - violin
Isaiah Ceccarelli - percussion
Subtle Lip Can was formed on a cold Tuesday night during 'Mardi Spaghetti', a Montréal improvisational music series at the venue Le Cagibi. The music created by these three comrades felt so fresh, new and natural that they decided on the spot to continue playing together. The trio consists of Bernard Falaise (electric guitar), Joshua Zubot (violin), and Isaiah Ceccarelli (percussion). All three are active members of Montréal's fervent improvisational community. The textures they create are unique, rich and cover a wide dynamic scope, from contemplative soundscapes to frantic climaxes. This is their first album as a trio and was made live in Frédéric Boudreault's studio on Avenue Papineau.
"...it is the musicians' ability to maneuver as an ensemble the sudden, breathtaking changes from breakneck flourishes and jarring textures to seductive reverberations that shimmer and disappear that ultimately take this album so captivating." Signal To Noise (USA)
"The sheer distinctiveness of this trio's sound is a blessing: music this engaging and unique is a rare gift." Exclaim! (Canada)
"The band's invented a tonal vocabulary all its own; a language crimped, parched and folded; a sound that communicates a different kind of communion. Absolutely, most definitely essential listening." Forest Gospel (USA)
"It's cutting edge stuff at it's best, ...beautiful, moody, dramatic, and a thoroughly enjoyable listen." Left Hip Magazine (Canada)
"Subtle Lip Can's debut is a fleshy menace of sound; sound abounding in subtlety and carnage; sound with lungs and a heart. Simply put: it's an album you can't afford to miss." Foxy Digitalis (USA)
"It's good to see someone who does not accept subservience to the improvisation market's current laws; here's hoping that we'll hear again soon from such an unexampled unit." Massimo Ricci (Italy)