Superimpose
Submitted by
Mathias
on Fri, 2010-03-19 18:54.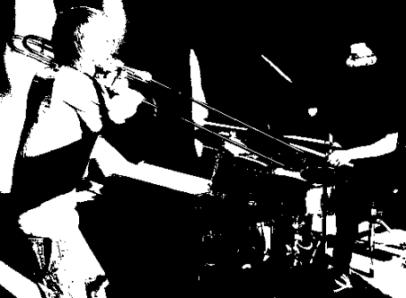 The collaboration of Matthias Mueller and Christian Marien started, when Matthias joined the band "Olaf Ton" in 2003. Playing together in various projects in the following period, they worked on a common musical language, which resulted in their duoplaying in 2006.
Not only due to the unusual combination of trombone and drums, they are very consciously trying to overcome conventions and to avoid obvious musical solutions. Free improvised music, which uses and at the same time questions the full range of musical parameters such as dynamics, density, rhythm, sound, form and tonality, requires extreme alertness and concentration on the musical process of both musicians. The outcome is a raw music, at the same time brutal and peaceful, ugly and nice. Its aim to achieve the "highest form of beauty" at any time is overriding all musical decisions.
One major goal of their work as a duo is meeting and exchanging with other artists. Among others they collaborated with drummer Michael Zerang, trombonist Johannes Bauer, saxophonists Tobias Delius, Matthias Schubert, Frank Gratkowski and Jack Wright, guitarist Olaf Rupp, bassists Wilbert de Joode, Christian Weber and Clayton Thomas (with whom they have the trio "The Astronomical Unit").
In 2007 they released their debut-CD "Superimpose" on the Portuguese label "Creative Sources". In 2009 they released their second CD "Talk Talk" on the English label "Leo Records".
Matthias Mueller – trombone
Christian Marien – drums
Matthias Mueller moved from Essen, where he had lived for ten years, to Berlin in 2004. He played together with many outstanding international improvisers and was a member of the "Deutsch-französisches Jazzensemble", conducted by Albert Mangelsdorff, for many years. His CD "Bhavan", released on "Jazzhausmusik" in 2004, was produced by musician and journalist John Corbett from Chicago. He played concerts in India, Russia, USA and many European countries.
Christian Marien lives in Berlin since 2000, studied drums in Amsterdam and Berlin. As a member of numerous ensembles such as The Astronomical Unit, Stereolisa, Computerband he is playing concerts in Europe and America and releasing CDs on labels like "Leo-records" or "Jazzwerkstatt". Recently he concentrates on developing his soloplaying ("sieben mal solo" released on Schraum, 2007) and an intense collaboration with the perfoming artists "Ritsche&Zast", exploring the intersection of music and urban calligraphy. Considering his drumming as an (inter)artistic language, he is not only collaborating with many improvising musicians but also with artists such as Thomas Bratzke or dancers such as Hans-Werner Klohe or Kadir "Amigo" Memis.