Tobias Kirstein & Pär Thörn // Ignaz Schick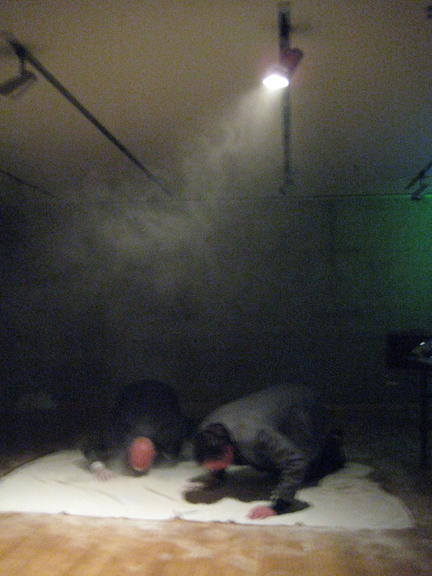 - animals acting human # 2 -
Duo: Tobias Kirstein & Pär Thörn // Solo: Ignaz Schick
Doors 21:00 - Start 22:00
The Danish-Swedish duo Kirstein/Thörn has been active since 2011. They combine sinewaves, feedback and screaming. It moves between brutal sound poetry, noise and psychedelic electronic music. on youtube
Pär Thörn is a writer, conceptual artist and musician currently active in Berlin.
Tobias Kirstein is a musician, performance and installation artist. Kirstein is known for his work as a drummer and composer from a host of collaborative artistic projects, with among others The Light People (with Sune TB Nielsen, Toke Tietze Mortensen), CM von Hausswolff and Leif Elggren.
***
Ignaz Schick is a Berlin based experimental musician, sound & visual artist, performer & composer.
From early age on he takes classical flute & theory lessons and then rapidly moves on to alto saxophone during high school and college. After going through the basics (Swing, Bebop, Baroque and Classical Music) he specializes on Free Jazz, Improvisation, Ethnic and Contemporary Music Schick starts taking every possible chance to sit in with semi-professional college bands. His skills and reputation grow fast and he soon is in strong demand as a lead alto player performing with prolific modern, free and avantgarde jazz groups and also helps out in swing, rock, reggae, or traditional brass bands all around in Germany, Austria, France & Italy. At the same time a friend of the family introduces him to a vast vinyl collection containing anything from jazz, to the most far out avantgarde & Schick starts exploring and collecting music profoundly. His interest early on is free jazz, improvisation, electro-acoustic music, noise & punk, industrial, musique concrete and traditional african music. He starts experimenting with multitrack tape machines, broken records, prepared and manipulated turntables, effect boxes, found instruments and sound makers and produces frequently performances of his own music and collages. For those he often invloves local musicians and friends. His unusual output at the time in sometimes provokes controversial reactions between fascination, astonishment or complete rejection and makes him a pretty know local figure.
After college he studies at the Academy of Fine Arts in Munich and works for a few years for the contemporary composer & avantgarde pioneer Josef Anton Riedl.
Since late 1995 and when not traveling he mainly works and lives in Berlin where he becomes an active force of the so-called "Nouvelle Vague" and the experimental music" scene. During the mid & late 90ies his interest and activities strongly shift towards electronic music. After undergoing a long process of researching an ideal live-electronic set-up (he is testing hard- & software samplers, different controllers and selfmade devices, signal processors exploring material & field recordings) Schick develops a pretty unique, rather hands on and iconoclast audio-visual performance instrument which at the time he calls "Rotating Surfaces". Objects and selected materials of different nature (wood, metal, plastic, paper or violin bows and cymbals) are scraped directly onto the rotating and the slightly modified/prepared metal plate of the turntable. The vibrations and frictions are amplified with a small condensator microphone and are then manipulated with several live-processing and re-sampling techniques. Sometimes and in addition video cameras project the visual effects on screen. Within a period of 4 to 5 years he has developed a pretty virtuoso catalog of techniques, sounds materials and tricks and performed worldwide with this unique set-up. With his "Rotating Surfaces" and other inventive set-ups he performs within many different genres of experimental music. His creative & musical curiosity is pretty much beyond limit, his taste & musical quality stand for a pure and raw beauty. Musical risk, fragility & the acceptance of sonic accidents have always been important to his aesthetic philosophy. Since many years he favours instant live performance to canned music. Schick has been highly productive - stylistically his music comprises minimalsim, musique concrete, electronica, cut-up collage, instustrial ambiences, harsh noise to contemporary electro-acoustic improvisation and composition. Also he blends free jazz, electro-acoustic music with traditional music and works on his own fake folk forms with sometimes surrealist and dadaist notions.
Recently he has strongly returned to composition, conceptual work, sound installations and writings. His ongoing interest for obscure collage, found objects, mechanical machines, calligraphy and lost archives have led into a vast body of graphic works, drawings, texts, collages, notations, photography & scores. In his visual and conceptual works he tries to challenge perceiption patterns in general. Some of his pieces are rather absurd and full of paradoxes. Schick finds obscure ways to question & blur reality while pushing the art of story telling to its limit. Fictional outsider tales, myths and fake folk memory are obscured with reality.
Besides his numerous collaborations in small chamber music situations with an who is who of international experimental performing artists( i.e. Thomas Ankersmit, Claus Van Bebber, Andrea Belfi, Alexei Borisov, Sebastian Buczek, Maria Chavez, Phil Durrant, Jason Forrest, Limpe Fuchs, Gunnar Geisse, Christoph Heemann, John Hegre, Philip Jeck, Zbigniew Karkowski, Sven-Åke Johansson, R Keenan Lawler, Matmos, Seiji Morimoto, Aaron Moore, Toshi Nakamura, Andrea Neumann, Charlemagne Palestine, Mat Pogo, Dawid Szczesny, Martin Tetreault or David Watson to name a few) he is initiator/founder and/or artistic director of ensembles and musical collectives like Yemen Breakfast, Hawking, Ruf der Inakustik, KIM, Overdue, Perlonex, Snake Figures Arkestra, Tree People, Phosphor, Blind Snakes, Decollage, Berlin Sound Connective, N.I.E., ISEA (Ignaz Schick Electro-Acoustic Ensemble), The Berlin Experimental Band, Radio Nightmares, BETT4, Kim, ... He is part of the "Berlin Splitter Orchestra" and frequently collaborates/d with composers like Josef Anton Riedl, Matthias Spahlinger, Michael J. Schumacher, Sidney Corbett, Alex Nowitz, Oliver Prechtl, Sven-Ake Johansson, Oyvind Torvund, Christian Marclay or Otomo Yoshihide. He performs his own compositions and has received commsissions by internationally renowned soloists, ensembles, festivals and institutions worldwide.
Besides his electro-acoustic output he has learned/studied and/or performed with some of the World's finest jazz & free jazz musicians (amongst others Johannes Bauer, John Betsch, Ernst Bier, Mwata Bowden, Don Cherry, Marty Cook, Tristan Honsinger, Paul Lovens, Amine Mesnaoui, Andrea Parkins, Jim Pepper or Johannes Schleiermacher, ...). Schick has toured, taught, researched and performed music and sound art continuously all over the World (Europe, Australia, the Baltics, Canada, Finland Hungary, Israel & Palestina, Malaysia, Morocco, New Zealand, Norway, Russia, Slowenia, Ukraine, USA, Russia, ...).
He has published a fine discography on imprints like Zarek, Edition Zangi, edition x, Happy Zloty, Irrah, Potlatch, Bad Alchemy, Charhizma, Staalplaat, Nexsound, Non Visual Objects, Improvised Music From Japan, Absinth, Ambiances Magnetiques, Let Petit Mignon, RCA or Mikroton. Ignaz Schick produced several sound art pieces and compositions for radio plays, film, theatre and dance companies of international reputation (Staatoper Berlin, Radialsystem, Sophiensäle, Volksbühne, The Place Theatre, Narodny Dom Ljubljana, ...) and worked for (inter)nationtal radio programs like ORF-Kunstradio, ORF-Zeitton, RBB-Hoerspiel, DLR-Kultur. His music was broadcasted and streamed all over the world via stations like DLF, BR, WDR3, DRS, CBC Canada or HR. He also supported many smaller independent radio stations like Radio Student Slovenia, Radio Copernicus or WFMU New York. In addition he has established a reliable reputation as producer of experimental artists, releases and international tours and helped numerous sound artists releasing their music. He produced more than 15 albums on his own imprints Edition Zangi & Zarek and has been curating festivals of experimental music from the early 90s onwards (FAM, Erase & Reset, Time Shifts, The International Turntable Orchestra Akadiemie der Künste 2009 or Echtzeitmusiktage Berlin 2010 ...). Since 1994 he has received several stipends and grants for his compositions and sound art. In 2011 he decides for a harsh cut & break in his career and completely focuses on finishing the work on an extensive meta-theory and -language which he had started compiling since the year 2003 or 2004. An ongoing, vast and almost unmanagable enterprise & work in progress. "The Books" organizes and subdivides his conceptual work into six different books or thematic monikers (BoM, BoS, BoL, BoT, BoC, BoMo, BoP, ...) The first one [Book of Music] is a manifold compendium of strategies, resources & materials about structuring larger creative ensembles and was supported with a composition grant from the City of Berlin.
Since June 2012 he has devoted all his time and private savings to a 12 months travelling project (The Nomadic Year 2012 - 2013) which during the process became a pretty fierce, self-reflective and highly political satire and critique of our present time. In TNYP Schick is strongly scrutinizing human patterns of profusion & conspicious consumption. During a rather existential sabbatical year with pretty obscure and adventurous everyday occurances and despite two malicous thefts Schick originated an estimated amount of 1000 new works, slips & pieces (mainly diary accounts, writings, found objects, sound makers, collages, drawings, photos, compositions, lecture fragments, poetry, notations, scores, recordings, fictional tales, stories & myths) which are based on the intense and often limit-exceeding experiences of his one year vagabond trip through Central Europe.
Discography [Excerpt]
Ignaz Schick & Decollage - Lonely Woman - David Records 1996
Perlon - The Bad Alchemy Pieces - Bad Alchemy 1999
Perlonex - Perlon - Zarek 1999
Ignaz Schick - Tabit - Zarek 1999
Ignaz Schick & Decollage - Live Vol. 1 & 2 - Zarek 1999
Ignaz Schick & Andrea Neumann - Petit Pale - Zarek 2001
Perlonex - Peripherique - Zarek 2001
Phosphor I - Potlatch 2002
Perlonex/JuliJuni - With Enemies Like This Who Needs Friends - Happy Zloty 2004
Ignaz Schick & Jason Forrest - Blood Orchid - Improvised Music From Japan 2005
Perlonex/Keith Rowe/Charlemagne Palestine - Perlonex.Tensions - Nexsound 2006
Ignaz Schick - Frost - Absinth Records (2007)
Ignaz Schick & Dawid Szczesny - The View Underneath - NVO 2007
Ignaz Schick - Butania Metallica - Edition Zangi 2008
Ignaz Schick & Martin Tetreault Live 33 45 78 - Ambiances Magnetiques 2009
Phosphor II - Potlatch 2009
Perlonex & Charlemagne Palestine "It Aint Necessarily So" Zarek 2009
Snake Figures Arkestra - Cooks & Devils 2009 Zarek
Ignaz Schick & Dawid Szczesny - Live in Geneva Zarek 2011
Andrea Belfi & Ignaz Schick - The Myth of Vision Revisited Zarek 2011
Tree People & Pokemachine - Split - Let Petit Mignon 2012
Echtzeitmusik Berlin - Mikroton 2012
Works & Compostitions (Selection):
Die Wüste bleibt leer 1993
Liebe macht blind 1994/1995
Puppy Love 1996/1998
Tabit 1998/1999
Amplified Body 2000 (with Snjezana Premus)
Metaflexes ORF-Kunstradio 2000
No Tea, No Dogs 2002 (with Snjezana Premus)
Astatic - für Resonanzkörper & Feedback (2003)
Rotating Surfaces 2004-2012
Stolen Moments 2008
Cooks & Devils 2009 (with Marcel Türkowsky)
Butania Metallica 2009
The Six Books (BoM, BoS, BoT, BoL, BoMo, BoC) 2009 - ∞
Hans im Glück RBB-Kulturradio 2009 (Götz Naleppa)
The Paiva River Collection 2010/2011
The Myth of Vision of Persistence Revisited 2011 (with Andrea Belfi)
About Electric Bugs & Other Strange Insects (Festival Experimentelle Musik München) 2011
Pastik Fantastik (with Sebastian Buczek) 2012
Leckermänner - Dichten in Fahrtrichtung DLR-Kultur 2012 (with Götz Naleppa & Natascha Nikeprelevic)
The Ripper [Archive] ORF Kunstradio 2012
IT: Crying Games Documenta 2012 (with Irena Tomazin)
Archival Drift DLR-Kultur 2012
The Nomadic Year Project 2012-2013
Objects, Installations & Concept Works [Selection]
Kratzen (Edition Zangi) 1990
Käseplatte (Edition Zangi) 1990
Wicklungen & Schichtungen 1995
Wannenbass (1995)
Reibemaschine (1995)
Nuts (Edition Zangi) 1998)
Mousemachine (1997/1998)
Flicker/Stutter (Garage Stralsund 2004)
Washing Aluminium (Friedhofskapelle Berlin, 2005)
Sheets & Shells (Studio P4C Berlin 2005)
Ghosts/Vibrations (Tesla Berlin 2006)
Oh Mali I Miss You (Berlin Fantastischer Zustand 2005/Tonspur Museumsquartier Wien 2010)
Vinyl Rockets(2010)
Rotary Perceiptions 2010-2013
Mates & Plates (2013)
Schiesser (2013)