Tochnit Aleph 25 // Schimpfluch Affiliated Actions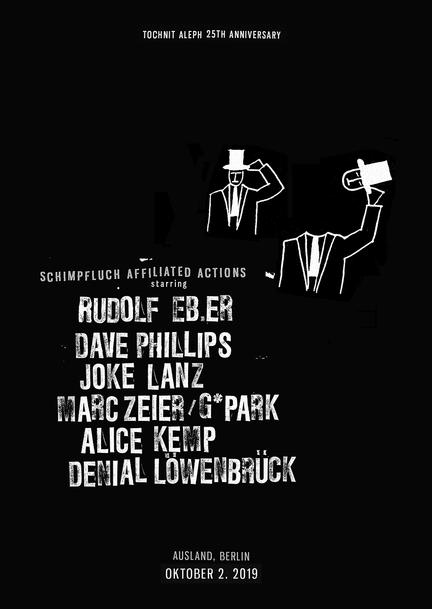 Atra - Tochnit Aleph - Schimpfluch + ausland present
- a special night on the occasion of Tochnit Aleph's 25th anniversary -
live:
RUDOLF EB.ER | soundcloud.com/rudolf-eb-er
MARC ZEIER / G*PARK | www.discogs.com
JOKE LANZ | www.suddeninfant.com
ALICE KEMP | www.alicekemp.net
DAVE PHILLIPS | www.davephillips.ch
DENIAL LÖWENBRÜCK | www.tochnit-aleph.com
Doors 20:00, Concerts 21:00 | @facebook
Tickets: 15 EUR
>>> in order to make sure, please use the pre-sale through Tochnit Aleph over here:
www.tochnit-aleph.com
- if not otherwise indicated here or in the FB-event shortly before, there will also be tickets available at the door -
RUDOLF EB.ERs work explores and maps access to the traumatic depths of the human psyche. Through combinations of therapeutic actionism, electro-acoustic sound rituals, psychomagic and yogic meditations, Eb.er generates psycho-physical experiences and exceptional musical situations with the purpose and function of widening perception, overcoming the ego and experiencing the nature of being.
MARC ZEIER / G*PARK is one of the original and probably most enigmatic members of the Schimpfluch Gruppe. He works on the fringes of science, acoustics, scultpure, also including installations, video, performance. Cryptic and sprawling modern day musique concrete, Sonic Manifestations of amorphous conditions that lead to (or interfere with) representational forms or states of being. A grandiose revelation of an existential horror.
ALICE KEMP: Subtle trance states, dreams, and disturbances inform her personal and cryptic yet coherent body of work. Personal, emotional, mysterious, minimalistic and experiential live appearances and [in]actions suggest a private mythology evolving through stillness, boundaries and aural stimuli.

JOKE LANZ: Performance and body art meet noise and improvisation. In his Sudden Infant guise, Lanz creates a unique blend of physical sound poetry and epileptic noise bursts, using contact microphones, loops, tapes, turntables etc. Major themes of his intense musical universe are childhood experiences, physical eruptions, psycho mechanisms, auto-aggression and social problems.
DAVE PHILLIPS: Sound as communication in direct and primal form, a language, a tool of metaphysics, a conscience and a consciousness. works that activate primordial shared emotions otherwise hidden under the debris of civilisation, and that oppose the omnipresent restriction and reduction of life and living, inviting rumination, encouraging intervention, endorsing catharsis, liberating. therapeutical. sonic activism, ritual protest music.
DENIAL LÖWENBRÜCK is a German performance artist, composer of tape-music, (sometimes) visual-artist & curator, founder of the Tochnit Aleph label (since 1994) and curator of the Rumpsti Pumsti (Musik) store in Berlin.