Torsten Papenheims TRUE CARGO SERVICE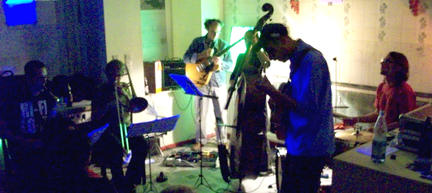 Im Mai 2009 erschien nach rund zwei Jahren Arbeit
Torsten Papenheims
Album Some of the things we could be. Produziert von Dave Bennett entwirft Torsten Papenheim in zwölf Stücken eine musikalische Welt, in deren Mittelpunkt die Kombination und Gegenüberstellung von Melodie und Geräusch stehen.
Dreizehn MusikerInnen waren an der Realisierung der vielgelobten CD beteiligt, aus der schließlich auch das Sextett Tru Cargo Service hervorging. Im hochkarätig besetzten Ensemble
Tru Cargo Service
interpretiert Torsten Papenheim gemeinsam mit
Christian Biegai
(as),
Matthias Müller
(tb),
Dave Bennett
(g),
Berit Jung
(b) und
Christian Marien
(dr) zahlreiche Stücke von Some of the things we could be auf eine neue Art und Weise.
Tru Cargo Service zeichnet sich durch einen dichten, sehr eigenen Sound aus und bewegt sich spielerisch geschickt zwischen Komposition und Formen der kollektiven Improvisation.
more info:
www.torstenpapenheim.de