Torvund & Splitter: Constructing Jungle Books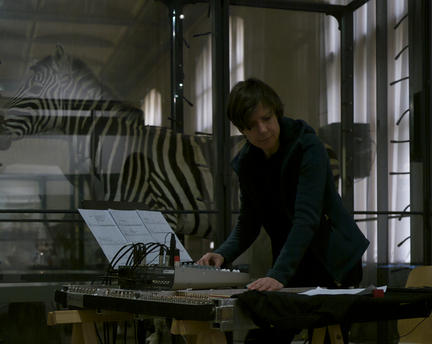 Naturkundemuseum Berlin, Invalidenstraße 43, 10115 Berlin
Oyvind Torvund & Splitter Orchester:
Constructing Jungle Books (2013/14)
What is nature, what is culture and what is the difference between the two?
Composer Øyvind Torvund, a guest of the DAAD Artists-in-Berlin Program in 2013, focuses on one of the most primal sound categories, exploring phrases and melodies of animal voices. During his stay in Berlin, Torvund worked with the 24 composer/performers of Berlin-based Splitter Orchester for his new work, "Constructing Jungle Books". The work emerging from this close collaboration will have its world premiere at the Museum für Naturkunde as part of the MaerzMusik festival. For his composition, Torvund uses recordings from the comprehensive animal sounds archive at the Museum für Naturkunde as well as recordings from the everyday world surrounding us. Together with musicians from the Splitter Orchester, he explores the principle of imitation. On a trail through the Museum's exhibition rooms, the concert visitors encounter sounds that play with the fascinating and bemusing dialectic of nature and culture.
Tickets and more Info under:
http://www.berlinerfestspiele.de/de/aktuell/festivals/maerzmusik/ueber_f...
Splitter Orchester:
Liz Allbee, trumpet
Boris Baltschun, computer, electronics
Burkhard Beins, percussion
Anthea Caddy, cello
Anat Cohavi, clarinet
Werner Dafeldecker, double bass, electronics
Mario de Vega, electronics
Axel Dörner, trumpet
Kai Fagaschinski, clarinet
Robin Hayward, tuba
Steve Heather, percussion, vibraphone
Chris Heenan, contrabass clarinet
Hilary Jeffery, trombone
Matthias Müller, trombone
Andrea Neuman, inside piano, mixer
Morten J. Olsen, percussion
Simon James Phillips, piano
Ignaz Schick, Turntable, live electronics, objects
Michael Thieke, clarinet
Clayton Thomas, double bass
Sabine Vogel, flutes, electronics
Biliana Voutchkova, violin
Marta Zapparoli, electronics, analog electronics

A production of ausland, DAAD Artists-in-Berlin Program, Berliner Festspiele / MaerzMusik and Borealis Festival Bergen. With the support of Norwegian Composers Fund. In collaboration with Museum für Naturkunde Berlin. Funded by means of the Capital Cultural Fund. With the support of Technical University Berlin – Audio Communication Group – Electronic Studio