A TRUER REALITY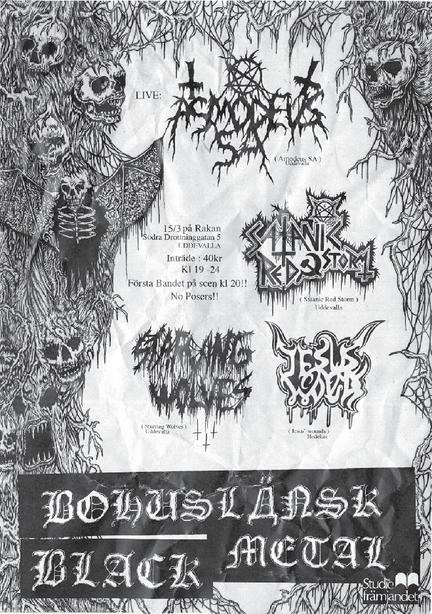 A cross-genre presentation of the book:

REALITY IS TRANSCRIBED, PUT INTO WORDS, BECOMES DISTORTED AND PART OF A NEW TRANSFORMED REALITY - Documents Pertaining to the Murder of Robert Risberg in Uddevalla 13/05/96
by Ragnar Persson (artwork) & Pär Thörn (text)
reading - Pär Thörn
exhibition - Ragnar Persson
concert - Vinyl Horror: "Dark Matters" (premiere)
+ talk & discussion with the artists
- moderated by Peter Henning
reading & talk in English
doors 21:00 | start 21:30 | 7 EUR | @ facebook
party afterwards with Fog Puma

exhibition opening today at 17:30
exhibition open again on Sunday, Nov 8th, from 15:00
In their book "REALITY IS TRANSCRIBED...", Thörn and Persson provide us with both a textual and visual report tracing back to a murder case in the Swedish Black Metal-scene of the 1990s. On May 13th 1996, Stefan Persson, member in the band Asmodeus SA, had - using a dagger - killed Robert Risberg of the band Satanic Red Storm in Uddevalla (Västra Götaland County).
Fragmentary documents & artefacts pertaining to this murder from the time back then which Ragnar Persson and Pär Thörn have researched and compiled such as song lyrics, merchandise items, interrogation & interception protocols, concert promotion posters, newspaper articles, fanzine drawings, album reviews or private correspondences (...) make us delve into the world of the two hostile Black Metal-bands who are nowadays, unjustly, rather unknown, if not forgotten. Nevertheless culminating in a sad, harrowing murder, both Satanic Red Storm and Asmodeus SA have with their music and notions made important contributions to the history and strength and authenticity of Black Metal. These contributions and the exact circumstances of the crime are to be revealed tonight.

Pär Thörn presents the texts he'd compiled in a reading in English. For A TRUER REALITY, translations had specifically been drawed from the (Swedish original) documents in the book. Ragnar Persson's documentary exhibition is (on)going throughout the night and also open again tomorrow, Sunday Nov 8th, from 15:00.
Because only few original music recordings from Asmodeus SA and Satanic Red Storm can be disintered, Greta Christensen aka Vinyl Horror did some research in the spheres & aesthetical contexts of the bands and will play one of her rare solo concerts using original Black Metal-vinyls in the specific turntable-setup she'd developed.
After the concert, we'll find Greta, Pär and Ragnar in a talk & discussion with moderator Peter Henning and the audience about the background, implications and perspectives of their musical, visual and literary works presented tonight. Party afterwards with Fog Puma!
a worth reading review about "REALITY IS TRANSCRIBED..." can be found at swedishbookreview.com
The Swedish original of the book was published by Orosdi-Back, Stockholm, 2012
Thanks to Berliner Senatskanzlei für kulturelle Angelegenheiten & Swedish Embassy Berlin for their support.
Greta Christensen alias Vinyl Horror works in the collaboration "Vinyl Terror & Horror" together with Camilla Sørensen. The project exists since 2001 and has developed in different shapes and directions but always to specify the relationship between object and sound. All this is materialized in sound installations, releases, concerts or/and fucked up LP-record behavior in general. She performs in rare occasions with dr. nexus under the name "screaming it". Even more rare solo.
Tonight, as comissioned work for A TRUER REALITY, she'll play a concert of three pieces, for which she uses - destroyed, revised & reassembled - original Black Metal-vinyls in the highly individual and stunning turntable-setup she'd developed. All the pathos and authenticity of the generic historical sound aesthetic of Black Metal deconstructed, restored and transferred into a new musical form & language...
...interesting features about Greta's work with "Vinyl Terror & Horror" can be found @ vice, dangerousminds & electronic beats
Ragnar Persson, *1980 in Tavelsjö/Sweden, lives in Stockholm. His work in fine arts mainly focuses on pencil drawings of various sizes which do not bridge but zoom in the gap between the mean and the naive, the idyllic and the brutal, abyss and plain. Before Ragnar's first book Sarcogafo​ with Johan Nordbeck's poems was published in 2005, Ragnar had as an apprentice of the DIY concept self-published numerous fanzines. In 2010, Ragnar's book ​Feel the darkness was released which opened up his works for a wider audience. He presented his works in e.g. Sweden, Turkey, Norway, the Netherlands, Germany, Japan and the U.S. Recent exhibitions included, among others: "Lost & Found" (Gallery Arts Factory, Paris, 2015), "Andra Kärleken" (Gallery Charlotte Fogh, Copenhagen, 2015), "Förortsmummel" (Galeria de Muerte, Tokyo, 2014).
Ragnar's Stockholm gallery Steinsland Berliner has further information about Ragnar & his work, and so does Vice magazine over here & here.

Pär Thörn, *1977 in Uddevalla/Sweden, is a writer, musician, conceptual artist and performer. In his books, he often works with ready mades, conceptual frameworks and meta poetical investigations. As a musician he performs with radio, prepared speakers and tape recorders. He's regarded as one of the most interesting writers of his generation in Sweden and has since 2002 published more than 15 books with diverse publishers - among them conceptual and abstract sound poetry as well as crime novels, comics or the twitter poem "I am". His work had been translated into diverse languages and was rewarded with grants such as the Åke-Hodell-memorial-grant or stipends from the Swedish Academy and Swedish Arts Council. He performed readings and concerts and showed exhibitions all over Europe and in Mexico and Vietnam. Current collaboration partners include, among others, writer Andrzej Tichý, artsists Anna Wignell and Helena Juréen, musicians such as Ian-Douglas-Moore & Paul Roth, Axel Dörner, the trio Monkey Plot, Tobias Kirstein and dancer/performer Takako Suzuki
storno.wordpress.com
Peter Henning has been active in experimental music scene since the early 2000s, publishing fanzines such as Namenlos and more recently running the labels Sprachlos Verlag and Solförmörkelse. He also makes music in the bands Amph and Mirrors Are Black. His doctoral thesis at Lund University studies memory, remembrance and mourning in 19th century Swedish literature.
sprachlosverlag.com
solformorkelse.com
--------
RF: What were you doing on the night between the twelfth and the thirteenth of May?
SP: Not sure. I was at home I think. Hang on, I think I rented a movie. Yeah. That's what I did.
RF: What film did you rent?
SP: Hmm. No idea. I rent shitloads of movies.
RF: Where did you rent it from?
SP: From Videomix. I always rent from Videomix.
RF: Why?
SP: I just think it feels better.
RF: What do you mean 'better'?
SP: Is this really relevant to the investigation?
RF: That's for me and not you to decide.
SP: Well, I think the Biljardkafé feels a bit lame somehow.
RF: But you can't remember what you rented? Perhaps you have a receipt or some kind of stamp, don't you get one of those credit stamps?
SP: No, as I said I can't remember, but I think it was an action movie ... It was an action movie ... It was an action movie.
RF: But you can't remember which one?
SP: No, but perhaps if you give me a moment to think about it I might.
RF: It seems a bit strange that you say you rented a movie but that you can't remember which one. It wasn't that long ago... about two weeks now. Were you alone when you watched this movie or did you watch it with someone else... a friend?
SP: No, I was on my own. Let me think... let me think... it was Seven I watched. I've
seen it many times. It's good.
RF: Ok, I think we'll take a break here and start again in half an hour. Alright?
(Extract from the police interview record on charges of murder, Uddevalla Tingsrätt (27/05/96). The accused is Stefan Persson. Richard Forsman conducted the interrogation.)
- credits -
translations Swedish > English: Anna Tebelius
graphic design flyer: Stefan Roigk
idea & production: Tobias Herold