T.A.T.V. #2 Day 2 [Streaming]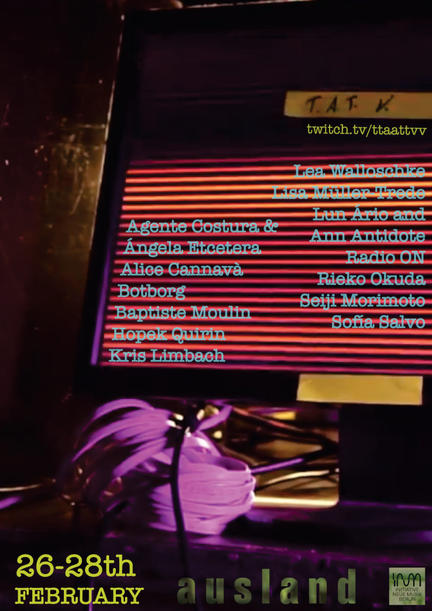 T.A.T.V. #2
a 3 days constant streaming experiment 26.2.-28.2.2021 at ausland berlin
"When the crisis of human relationship shattered the web of mythical communication, the attack on language took on a revolutionary air." Raoul Vaneigem
Leaving format dogmas and time constraints behind T.A.T.V. is an autonomous zone to test drive a micro republic of experimental performance practices, a T.V. station touching its limits of control.
Temporary Autonomous Television (T.A.T.V.) is a 3 day constant stream. Rendering
absurd profitableness and commodification of art as an easy consumable product in our optimized lifestyles is one of the objectives of this undertaking.


https://www.twitch.tv/ttaattvv



artists:

Agente Costura & Angela Etcetera
Alice Cannavà
Baptiste Moulin
Botborg
Hopek Quirin
Kris Limbach
Lea Walloschke
Lisa Müller-Trede
Lun Ário and Ann Antidote
Seiji Morimoto
Sofia Salvo
Radio ON
Rieko Okuda



A project by kris limbach



AGENTE COSTURA
Lisa Simpson has been playing the Singer, a sewing machine, since 2003. In the daytime she tackles unwanted clothing, pins them down and cuts them up, transforming them into new wearable shapes. By transforming wardrobes she is questioning contemporary consumption habits, bringing forth a discussion around the sustainability of the fashion industry. At nighttime the Singer joins her fellow musicians and Lisa sews to the beat of the music, improvising on clothing based on rhythm and sound. The prepared sewing machine is amplified to become a musical instrument and layers of sound are looped as layers of fabric are stitched together, creating a dreamlike soundscape, enhanced by self built wearable oscillators and feedback machines.
Lisa has a Bachelor degree in Visual Arts from Universidade Tuiuti do Paraná, Master of Applied Arts degree from Emily Carr University of Art and Design, and is currently enrolled in the Art in Context program at Universität der Künste Berlin. She has performed extensively on an international level, including Goethe Institut Jakarta, Schneidertempel Istanbul, The Vancouver Art Gallery, the Month of Performance Art- Berlin, Museum der Fünf Kontinente Munich, the Bimhuis Amsterdam, Curitiba Fashion Week, among others. Lisa currently lives and works in Berlin, and is involved in a range of different projects in collaboration with artists and interested audiences.


ÁNGELA ETCETERA
Ángela Muñoz Martínez (Seville, 1986) is a spanish artist based in Berlin.
She completed the classical dance degree at the conservatory of Seville, and graduated with a B.A. Honours in Contemporary Dance from The Place, London Contemporary Dance School. Since then, Angela has taken an interdisciplinary approach to art-making.
During her studies of the M.A. Performance Practice and Visual Culture (University of Castilla LaMancha/Museo Reina Sofía - 2017), she deepened her research on the act of listening and the influence of sound in the body, and upon this idea she developed work based on the technique of Deep Listening in relation to movement; her workshops have been part of Tino Seghal's exhibition "Welt ohne Aussen" at Gropius Bau (2018), Ponderosa Tanzland Festival, Conservatory of Dance Sevilla and Asociación PAD
among others. Her work as a dancer includes pieces by Peaches and Jeremy Wade (Hau 1, Toronto International Film Festival), Alexandre Achour, Jule Flierl, Rocio Marano, Claire Sobottke and as a guest
residence artist with Meg Stuart.
Angela's artistic practice is directly influenced by her intimate relationship with movement and sound. She collaborates regularly with her collective Cavidad Radio – a project researching experimental radio, and participated in sonic festivals by Archipel Community Radio, Datscha Radio and Tsonami Sound Art. Angela is a self-taught musician and an active member of the music groups Nunofyrbeeswax, Hypnodrone Ensemble and Vrouw!, and recorded several albums and toured extensively through Europe and the U.S.


ALICE CANNAVÀ
Alice Cannava is a Berlin based independent publisher/curator and freelance designer/coder. She studied Fine Arts in Milan and Vienna. Since 2009 she edits, designs and publishes Occulto, a publication that explores natural and formal sciences and their history in connection to other fields and topics such as the visual arts, pseudoscience and history of religions. Since 2011 she's curating in several "freie Szene" Berlin venues a program of cultural events focused on experimental music research and audiovisual performances. Her edition Phantom Records is a series of graphic and textual artworks about a fictional music label. She also gave talks in many venues and institutions.


BAPTISTE MOULIN
Baptiste Moulin is a French sound engineer. Born in 1988, he studied physics at the Université Joseph Fourier in Grenoble. In 2013, he moved to Berlin.
He has been working in different clubs and concert venues as a live sound engineer and a technical director, mostly at ausland (since 2015), specializing in experimental music. In this field, he has also been curating and organizing concerts/live music events.
In 2017, he composed a sound installation for a festival at Berghain, in 2018 he toured the UK with RENU, in 2019, he was the technical director of the Splitter festival and in 2020, he was part of a Gangplank Residency in ausland.
In his music studio Der Oker-Keller, he has been developing a string instrument, the Roscellae Guitar, as well as a series of coaxial speakers for his sound installations and technical support.


BOTBORG
Botborg is an international audio-visual performance group that fuses and rewires raw electronic signals to create intensely visceral experiences of sound-colour synaesthesia. Using a complex array of custom electronics, Botborg creates a totally live multi-sensory assault of interdependent colour and rhythm, pushing the limits of technology to invoke the maximum possible stimulation of their audience's mind and body. Botborg works with a level of experimentation and improvisation that places them in a territory outside traditional musical or cinematic formats, where the boundaries between art, science, and philosophy mutate until they are rendered meaningless.


HOPEK QUIRIN
Artist and musician, he's been doing improvised concerts since the end of the 1960s and has been part of punk and post-punk bands, such as Downers, Die ICHs, Kosmonautentraum, Kosher Moments. His focus is now on free jazz, soundtracks, improvised music, sound installations and ambient music.
He also collaborates with artists/musicians in diverse projects: 6 or 7, PARAL-LEL, Jochen Arbeit's Soundscapes, Bryan Lewis Saunders' "Stream of the Unconscious", ABQ, Madzaru, etc.


KRIS LIMBACH
Kris Limbach is a sound and visual artist residing in Berlin. Although his focus is on sound, he is also constantly exploring formats and aesthetics of cinema. In his sound art work he uses film-editing techniques, prepared drums, tape manipulation, no input mixing and a vast amount of raw and processed field recordings. His performances for film and tape involves live super8 manipulation and scoring, an arte povera approach to expanded cinema. His experimental feature film project "The Lost Color" premiered at IBAFF Spain and he is currently working on the last Film "Ohnmacht" of his CRISIS trilogy.
He curates, together with Pierce Warnecke and Seiji Morimoto, the emitter micro label and emitter micro festival, a biennial experimental sound Festival in Berlin. He is frequently collaborating with the artist collective Aktuelle Architektur der Kultur (AADK).


LEA WALLOSCHKE
Lea Walloschke is an experimental audiovisual performance artist. Her work plays with synesthesia and deeply engrained collective memories. She creates experiences that can trigger forgotten memories and toy with odd haptic sensations. Her mostly collaborative works have been exhibited in Berlin, Paris, Sonoma, LA and Puerto Rico. Her collaborations were seen on experimental dance and theatre festivals like Soda Works, Treibstoff Festival, or nominated at film festivals like Sundance, Venice Biennale or Cannes. She is the co- founder of the Berliner performance collective Koikate, who's shows were staged internationally since 2012. Koikate was awarded the Capital Culture fund in 2016. Their installation # WEMEGA (wemakeeuropegreatagain) was visited by over 80000 people and drew international attention. In recent years she was an artist in residency in Chalk Hill California, where she developed her intermedial language further.
Lea Walloschke studied at the University of Arts Berlin, and the British Irish Institute of Modern Music.


LISA MÜLLER-TREDE
Lisa Müller-Trede performed and exhibited works at Tanz im August, the Venice Biennale, at the Kunstverein Hamburg, the Bundeskunsthalle Bonn, at the Independent Art Fair New York and with SiTE:LAB in Grand Rapids, the Downey Mansion in Chicago and at the NGORONGORO Artist Weekend in Berlin, Performing Arts Festival Berlin Uferstudios Berlin, and at the Shatto Gallery in Los Angeles.
She studied Communication Science at the University of Vienna, Drama at the Conservatory in Vienna, and completed her MA in the program Solo|Dance|Authorship at the University of the Arts Berlin. Currently she is working on her PhD in Media Arts and Practice at the University of Southern California in Los Angeles.


LUN ÁRIO AND ANN ANTIDOTE
Lun Ário (she/they) is a queer sex-positive DIY performer artist based in Berlin. Lun Ário is doing burlesque performance, making movies and teaching shibari since she moved to Berlin in 2009. Lun is committed to a DIY, low-budget aesthetic.
Ann Antidote (she/they) is an autodidact DIY artist, active in the fields of bondage,video, performance, sound and landscape art. She has been active in advocating polyamorous, queer and kinky/sex-positive lifestyles as respect-deserving options. This work includes teaching, performance, video, and installation/landscape art, in Berlin, where she lives, and beyond. Currently she is busy finishing a couple of films and performances, almost all in cooperation with others.


RADIO ON
It is very likely you don't know about the existence of Berlin based internet-radio Radio On. I would like to give a bit of insight in the structure.
Radio On is run by two persons, Adrian Shephard and me, Rinus van Alebeek. We have been extremely fortunate to have free access to the server of sourcefabric.org and use their (free) software.
Having 24 hours at our disposal we used and still use material from our archive. We broadcast interviews, radioplays, and strange talks that evolve into improvised sonic miniatures and storytelling.
By time we started to invite friends and asked them to become a regular collaborator. The number of contributing friends is growing. New programs get added almost every day.
The Radio On programs reflect our taste. This is the radio we like to listen to. Radio stations like ours don't exist on no FM frequency where-ever you go. Radio On is a Gesamtkunstwerk, shows how a radio station can be used for transmitting radio art or outsider music.


RIEKO OKUDA
Rieko Okuda is a pianist and a composer from Japan. She began to play Classical music at the age of 3. She also studied Music Therapy at Doshisha Women College. Music Therapy led her into Contemporary music and Improvised music. After she graduated from the college, she moved to USA to study Jazz music. A couple of years later, she got interested in Free Jazz and Improvised music while she was in Phliladelphia. Her interests in Improvised music led her to move to Berlin. She performs with various musicians in Berlin. Also, she collaborates with contemporary dancers such as Yuko Kaseki, Akemi Nagao, and Annapaola Leso (from Sasha Waltz.)
In 2017 and 2018, she got the residency in Elektronik Music Studio (EMS) in Stockholm, Sweden. This residency experiences inspired her to Electro-Acoustic field, and she started to invite the electronics to her piano solo pieces.


SEIJI MORIMOTO
Born in Tokyo 1971, studied musicology at the Kunitachi College of Music, graduating in 1996.During this period he began to play the electronic pieces by John Cage and his own sound performances. Since then he has been creating installations, sound performances and videos.
Since 2003 he has been living and working in Berlin.Morimoto's work focuses on the unstable acoustic phenomena between everyday objects such as water and stones and the technological medium. His work consists of a search for small and differentiated structures, and the attempt to discover this random phenomena through and within the technological medium.


SOFIA SALVO
Sofía Salvo is a baritone sax player and improviser from Buenos Aires, Argentina, currently living in Berlin, Germany. Her performances include a strong combination between acoustic noisy sounds and dark introspective melodies.



TATV fb // event fb // insta