Tuerlinckx, Ermke, Beins /// DEL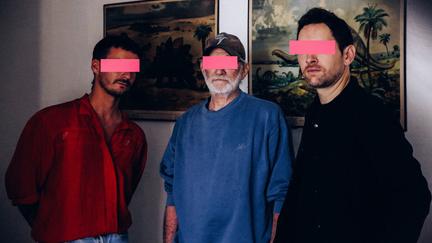 Tuerlinckx, Ermke, Beins /// DEL
doors: 20:00
start: 21:00
tickets (no presale): 10 €
Tuerlinckx | Ermke | Beins
Burkhard Beins electronics
Andrea Ermke mini-discs
Anaïs Tuerlinckx piano
Burkhard Beins, born 1964 in Lower Saxony, lives in Berlin since 1995. As a composer/performer working in the fields of experimental music and sound art he is known for his definitive use of percussion in combination with selected sound objects. Furthermore, he works with live-electronics/analog synthesizers, plays bass guitar, and has conceived several sound installations.
Since the late 1980's he is performing at internationally renowned venues and festivals throughout Europe, America, Australia and Asia as diverse as the LMC Festival (London), Int. Ferienkurse (Darmstadt), SKIF (St. Petersburg), Musiktage (Donaueschingen), Musique Action (Nancy), Choppa Festival (Singapore), Cave 12 (Geneva), HCMF (Huddersfield), The Now now (Sydney), ZKM (Karlsruhe), Cafe OTO (London), Kaleidophon (Ulrichsberg), Kid Ailack Music Hall (Tokyo), DOM (Moscow), Gaudeamus Festival (Amsterdam), Liquid Architecture (Australia), Meteo (Mulhouse), Taktlos (CH), Berghain (Berlin), Konfrontationen (Nickelsdorf), Serralves and Sonos. burkhardbeins.de
Anaïs Tuerlinckx is a pianist, composer and sound artist from Brussels.
She moved to Berlin in 2008, interested in the local improvised music scene. Tending to a rather physical and expending way of playing, her performances are characterized by a decidedly harsh and noisy but at the same time elegiac, breezy and spacious sound.
She likes to get involved in public spaces proposing inside piano activism out of the concert space and also teaches improvisation within the scope of music pedagogy. anaistuerlinckx.com/
Andrea Ermke is a sound artist from the so-called Berlin scene. Self-taught, she has been working with a sampler, mini disc players and a mixing board since about 1997. She has developed a very personal and uncompromising style of collage. Andrea has worked/collaborated among others with Jim Denley, Dorothea Schürch, John Butcher, Ignaz Schick, Annette Krebs, Margareth Kammerer, Leonid Soybelmann, Ami Yoshida... She was member of the groups Guestar, Cox Orange and Organic and currently performs with Tree (w Chris Abrahams & Burkhard Beins) and Sink.
DORN | ELGART | LUCACIU
Jonas Dorn guitar, electronics
Robert Lucaciu double bass
Bill Elgart drums
Im Dunstkreis von Krautrock-Ikone Hans-Joachim Irmler experimentierte Jonas Dorn schon früh mit dem radikalen Bruch von Ton und Form. Seine für dieses Trio maßgeschneiderten Kompositionen setzten die Weltklasse eines Bill Elgart in Szene und lassen diese doch in ungewohnten Licht erscheinen. Hierzu bedient sich Jonas Dorn verschiedener Kompositionstechniken und kontrastiert streng serielle Konzepte mit treibendem Jazzpuls und freien Formen, um dann wieder in melancholischer Harmonie von Pop oder pommerschen Weihnachtsliedern zu kollabieren.
Der umtriebige Kontrabassist Robert Lucaciu bewegt sich leichtfüßig in dieser musikalischen Kontrastlandschaft. Er hat sich -45 Jahre jünger als Elgart- kompromisslos der Musik als expressiver Kunstform verschrieben.
Zusätzlich wird das Spektrum auch auf der Soundebene durch LoFi-Noise und analoge Synthesizer erweitert. Hier kommen ofene Kabel, Hallspiralen, Spielzeugpianos, präparierte Kassetten und Radios zum Einsatz.
Bei dem Leipziger Szene-Label LAKELAND Records wurde im November 2021 ihr Album "DORN | ELGART | LUCACIU - Dreifinger" veröffentlicht.
Minidoku über Bill Elgart bei Youtube