Valerio Tricoli & Will Guthrie, Jasmine Guffon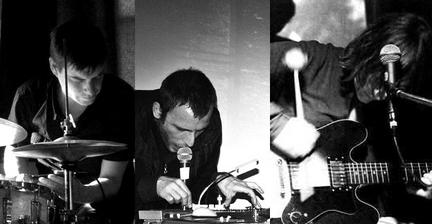 ohrenstrand.net präsentiert:
biegungen im ausland
Valerio Tricoli (adapted revox reel to reel) + Will Guthrie (percussion/microphones/electronics)
Jasmine Guffond solo (electronics, sampler, guitar)
+ + + +
World premiere of Sicilian reel to reel tape composer Valerio Tricoli with Australian percussionist and electro-acoustic composer Will Guthrie. Both musicians posess a thrilling live performance energy and a dark edge - there is nothing mundane or nostalgic about their music. Roagh! http://www.antboymusic.com/ 
Jasmine Guffond is a celebrated Australian electronics musician who relocated to Berlin from Sydney in 2003. Over the last 10 years Jasmine has been recording and performing with Minit (duo with New Zealander Torben Tilly), exhibiting sound installations, developing works of varied scope based on the use of processed acoustic, electronic, and found sound sources. She works with an array of abstract electronics and stripped back minimalist textures, beautiful fragile melodies and sudden implosions into hypnotic spectral noise. She has released albums on Staubgold with both Minit and her delicate folk solo project 'Jasmina Maschina'.
____________DE__________________
ohrenstrand.net präsentiert:
biegungen im ausland
Valerio Tricoli (electronics) + Will Guthrie (percussion) und Jasmine Guffond solo electronics
>>>>>>>>>>>>>>>>>>>>>>>>>>>>
Valerio Tricoli wurde 1977 in Palermo geboren und lebt in Berlin. Er tritt überwiegend mit analogen elektronischen Instrumenten auf (reel-to-reel tape recorders, Synthesizern, Mikrofonen, Lichteffekten...). Seine Arbeit erforscht die komplexen Zusammenhänge zwischen Musiker, Klang, und Objekt; Psychische Prozesse, die in Klanglandschaften übersetzt werden und umgekehrt.
Er ist einer der Gründer von the Bowindo label/collective, und der avant-rock combo 3/4HadBeenEliminated.
>>>>>>>>>>>>>>>>>>>>>>>>>>>>
Der australische Schlagzeuger und Perkussionist Will Guthrie benutzt selbstgemachte Instrumente, gefundende Objekte und Schrott, Mikrophone und Elektronik zusammen mit konventionellerem Schlagzeug und Becken.
In Australien und Frankreich organisiert er Konzerte und leitet das experimentelle CD label ANTBOY MUSIC.
Zusammenarbeit u.a. mit Matthew Earle, Adam Sussmann, Ferran Fages, Jean-Philippe Gross, Greg Kingston, Helmut Schafer, Keith Rowe, Jerome Noetinger, Jean-Luc Guionnet, Robbie Avenaim, Erell Latimier, Julien Ottavi, Manu Leduc, Jim Denley, Sébastien Coste, Ren Walters, Clayton Thomas, Mark Simmonds, Snuff Puppetts ... Er wohnt z.Z in Nantes, Frankreich.
>>>>>>>>>>>>>>>>>>>>>>>>>>>>
Jasmine Monique Guffond ist eine gefeierte australische Musikerin im Bereich der elektronischen Musik, die 2003 von Sydney nach Berlin gezogen ist. In den letzten 10 Jahren ist Jasmine als "Minit" (Duo mit dem Neuseeländer Torben Tilly) aufgetreten und hat unter diesem Namen veröffentlicht, Sound-Installationen ausgestellt und Arbeiten in unterschiedlichen Bereichen entwickelt, die auf dem Gebrauch bearbeiteter akustischer, elektronischer und gefundener Geräusche basiert. Sie arbeitet mit einer großen Anzahl abstrakter Elektronik, reduzierten, minimalistischen Texturen, wunderschön fragilen Melodien und plötzlichen Implosionen in hypnotischen spektralen Lärm. Sowohl mit "Minit" als auch mit ihrem Folksolo-Projekt hat sie mehrere Alben auf "Staubgold" herausgebracht.
"biegungen im ausland" sind ein Projekt des ausland Berlin im Rahmen von ohrenstrand.guide/Ankunft: Neue Musik. ohrenstrand.net. wird gefördert durch das Netzwerk Neue Musik, ein Förderprojekt der Kulturstiftung des Bundes, und die Kulturverwaltung des Landes Berlin.