Vincent Epplay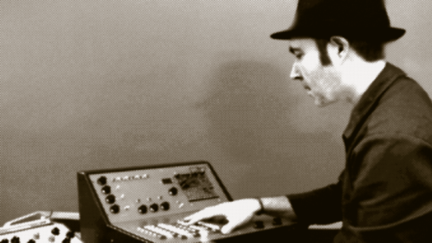 doors 20:30 | start 21:00
Vincent Epplay is a french sound artist. Since the early nineties, he develops an unclassifiable artwork exploring the interaction between sound process and visual shapes. He starts to develop a peculiar and prospective approach to electronic music, focused on aleatory composition, learnings of musique concrete and a poetic/humorous reappropriation of vintage sound/film material.
He has produced a dozen of records for various music labels: PPT/Stembogen, AKA, Brocoli, Planam alga marghen, LDDR... He keeps on archiving anomalous novelty/library/spoken words records and
vintage 8mm educational movies.
Vincent Epplay is a craetor of material sonic environments. He creates loci for listening by staging sound and interrogating its mode of distribution and reception. From sonic device installations to live performance, the context of production and dissemination, as well as the behaviourial dynamics of listeners-spectators
In his work, the visual artist and musician Vincent Epplay focuses on the notion of experience linked with music. This interest takes shape as a reflection on the process of listening, the transmission and reception of sound, the different ways it is placed in an environment, its temporality and its context. Epplay's various set-ups for listening, sound installations and live interventions delve into the connection between sound and image, offering visitors an experimental terrain as they become attentive listeners as well. Created in a public area, on the Web, or as a CD-ROM, his pieces occupy particular spaces to create individual and collective listening conditions.