Volcano the Bear (UK)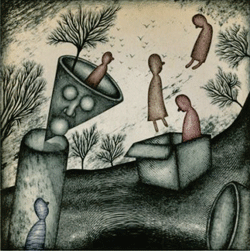 amSTARt präsentiert : Volcano the Bear
+ Nachtaffe Inc. - verfremdete Musik, Berlin
http://www.youtube.com/watch?v=nime1Xy7UUY
VOLCANO THE BEAR
http://en.wikipedia.org/wiki/Volcano_The_Bear
http://www.myspace.com/volcanothebear
aktuelles Album: Amidst The Noise And Twigs (Beta-lactam Ring Records)
Volcano The Bear have produced some of the finest, wildest British music of the last 10 years on record and on stage. (The Wire)
8 Euro
Volcano The Bear "Amidst The Noise And Twigs" is the follow up to the critically acclaimed "Classic Erasmus Fusion" album.
Who knew that amidst the noise and the twigs there was music…sweet, sweet music?!
This world is Volcano the Bear's womb. At last, the year that VTB gets a shot at Top Of The Pops, assuming the pops finally snaps out of its vapid trance and embraces the standards of Comus, 3 Hurel, early Residents and 12th century Arabo-Andalusian music.
As usual, our heroes are found keeping things stripped to the bone trumpet, but dripping with a juicy, melodic marrow. The record pours slowly and resolutely like a folk-psych dream urn, loaded with full metal banjoes; crumhorns at 12 O'clock; and
autoharps at defcon 5. The experimentalism is this time couched in shifting tides of self-spun acidic harvest ballads that noisily well up into proto-Kraut thrums and tribal night trips around the pyre. A rural, squelchy, DIY delicacy which stinks of occidental
embouchure so crystal crisp that every skkrrrr, pphaaapph and brrruuuummmm resonates like a small, sound-specific god, intertwined with beautifully skewed notes, voices and rhythms.
"Amidst The Noise And Twigs" plays like a recently discovered field recording of some obscured Celtic clan who accidentally stumbled onto psychedelia 600 years ahead of its time.
These pipers truly rock the gates of dawn.
Volcano The Bear Info :
Over the past 10 years, Volcano The Bear have created a unique music that is without bounds, and their live performances are bizarre spectacles to behold.
Drawing on a huge range of musical influences, including indigenous folk music, free jazz and musique concrete, Volcano The Bear produce music that is wholly their own, moving freely between improvisation and composition, and between instruments, voices and objects.
Their music is at times ritualistic, theatrical, beautiful and absurd, and in live performance allows anything to happen at any given time.
In 2006 Volcano The Bear released 'Classic Erasmus Fusion', a double-album available on CD and vinyl from Beta-lactam Ring Records, as well as 'Volfurten', (an LP on their own imprint Volucan), and 'Egg And Two Books', a live album on Vivo Records.
Volcano The Bear have performed extensively throughout the UK, Europe and America, including shows at Club Transmediale festival (Berlin),
Sound Forest festival (Latvia), Brainwaves Festival (Boston), Venn Festival (Bristol) as well as live broadcasts/performances for BBC Radio 3 (Mixing It) and Resonance FM.
There have been interviews, reviews and features of Volcano The Bear in music press across the world, including Ptolemaic Terrascope, The Wire, Losing Today, Plan B, NME, Dusted and Alternative Press.
Volcano The Bear are: Clarence Manuelo, Aaron Moore, Nick Mott and Daniel Padden
This is what people have said about VTB :
"Volcano The Bear have produced some of the finest, wildest British music of the last 10 years on record and on stage…" (The Wire, Jan 2006)
"The band exists in a twisted forest all their own." (Dusted)
"No one sounds, has sounded or will ever sound quite like Volcano the Bear." (Losing Today)

"..Its the trio's originality that is most striking, and ultimately they sound like nothing else…An inspired use of sonic material…" (The Wire, Classic Erasmus Fusion review)
"…what Colin Turnbull's field recordings were to Pygmy music, this music (The Idea Of Wood) could be to a mysterious race of backwoods British dwarves." (Dusted)
"(The Idea of Wood) proves without question that this lot occupy a niche that most of their competitors can only dream of being loosely associated with, Volcano the Bear are without peers" (Losing Today)
"Some things have just got to be seen and heard to be believed. One of these things is to experience UK combo Volcano the Bear in the live setting." (Mats Gustafsson)

"(Classic Erasmus Fusion)…a work of hitherto unrealised beauty and power." (The Wire)