VROUW!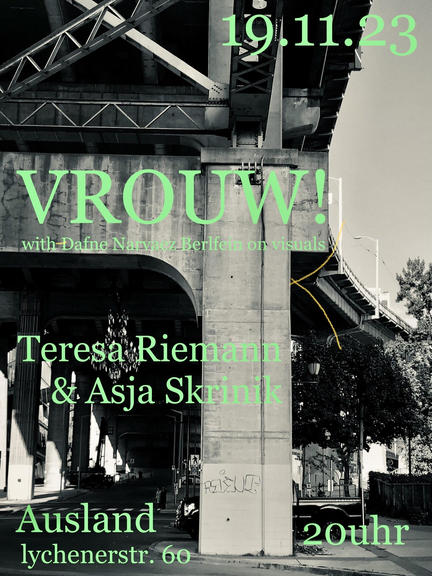 VROUW!
a five-piece, all-female experimental ensemble formed in Amsterdam and currently based in Berlin.
VROUW! plays drums, cymbals, bass, contact mics, shoes, self-made synths, cards, hats, tin foil & plastic bags, bowls, beads, threads and endless other ever-changing amplified objects.
VROUW! screams, sings, whispers and listens, riding the intricate waves of their ambient soundscapes.
Agnė Auželytė – keyboards, voice
Tristen Bakker – bass, noise box, voice
Kata Kovács – contact mics, found objects, voice
Angela Muñoz – percussion, voice
Lisa Simpson – talking hats and oscillations, voice
https://vrouwband.com/
VROUW! Will be joined by Dafne Narvaez Berlfein with live visuals.
Teresa Riemann & Asja Skrinik
... mehr in Kürze
https://www.teresariemann.com
https://vateranzverlag.bandcamp.com/album/asja-skrinik
after the two sets there will be an improvisation with all the artists.