Vulva Club #20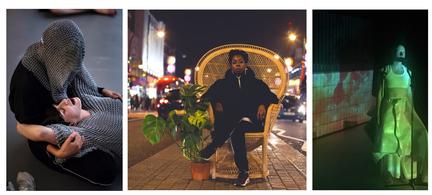 VULVA CLUB #20
Wednesday 19.09.18

Open Doors at 19:30, Start at 20:00
for VULVA CLUB #20 female trouble invite Olympia Bukkakis, Zinzi Minott and Ania Nowak to share their work with us. Come join us at ausland, Wednesday 19.09.18! As always, entrance is free.

Ania Nowak's choreographic practice approaches vulnerability and desire as ways towards reimagining what bodies and language can do. She researches love as a strategy of generating knowledge with a focus on affective economies of care and companionship, as well as redefining sensuality. Her works have been presented at Sophiensaele and Akademie der Künste in Berlin; Nowy Teatr, Ujazdowski Castle Centre for Contemporary Art and Museum of Modern Art in Warsaw; Art Stations Foundation in Poznań; Arts Santa Mònica in Barcelona and Kulturhuset in Stockholm a.o.
Zinzi Minott's work focuses on the relationship between dance, bodies and politics. Strongly identifying as a dancer, she seeks to complicate the boundaries of dance and the place of black female bodies within the form. Her work explores how dance is perceived through the prisms of race, queer culture, gender and class. Zinzi is interested in the space between dance and other art forms, and though her practice is driven through dance, the outcomes range from performance and live art to sound, film, dances and object-based work.

Queen of the Heavens and of the Earth, Empress of Despair, and Architect of Your Eternal Suffering, Olympia Bukkakis began performing while completing a BA in Social Theory at Melbourne University in Australia and kick-started the local alternative drag scene with her party Pandora's Box. She also starred in Australian queer theatre company Sisters Grimm's Summertime in the Garden of Eden. Since moving to Berlin in 2012, she has organised, curated and hosted various queer performance nights including Get Fucked, Fancy and Apocalypse Tonight. From 2015 onward, she has organised and hosted Queens against borders, a performance event in solidarity with trans and queer refugees. She is currently studying a Master in Solo Dance Authorship at the Inter-University Centre for Dance (HZT) in Berlin.

VULVA CLUB is a regular event series in Berlin, an attempt towards peripheral visibility. With VULVA CLUB female trouble invite guests and fellows to choreograph challenging and experimental encounters between art, works, people, ideas and conversations. Each edition of VULVA CLUB is unique in format and concept, designed together with the invited guests and their contributions. VULVA CLUB is not just another framework for production and presentation, but an event that wants to nourish artistic discourse and community.

female trouble are a friendship based collective (Agata Siniarska, Roni Katz, Xenia Taniko) working in Berlin since 2013. We share a mutual process of artistic, intellectual, personal and political exchange revolving around art(istic) work(s), bodies, queerness and feminisms. In 2014 female trouble initiated the public platform VULVA CLUB with the objective of bolstering and activating a community.

VULVA CLUB 2018 is made possible with the support of Hauptstadtkulturfonds.