Washington + Aufermann/Friz + Korabiewski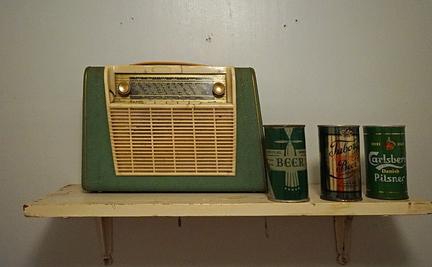 Bending The Waves #2
- a series about radio as Instrument
***livestream of the evening at rebootFM***
Anna Friz+ Konrad Korabiewski performing: FJARÐARHEIÐI
Using field recordings, cottage-built electronics, analogue tape and feedback systems, Friz and Korabiewski perform live, accompanied by Friz' monochrome two-channel photo-montage. Together, they craft pensive audiovisual landscapes, strongly influenced by the extreme oscillation between daylight and darkness characteristic of life over a year on the mountainous coast just below the Arctic Circle. Fjarðarheiði is taken from the name of the 25 km mountain pass which connects the village of Seyðisfjörður to the nearest town of Egilsstaðir in eastern Iceland. On this sometimes treacherous road, the visual and acoustic environments are transformed by dense fog and snow storms, effecting a perceptual flux between white-out and black-out which leaves only an aftergrain. If afterglow refers to the light or luminescence left in the sky after sundown, after-grain is the sonic and visual noise that remains when most other frequencies are subtracted.
http://film.ucsc.edu/faculty/anna_friz
Tonic Train: Knut Aufermann + Sarah Washington
Tonic Train is the experimental music performance duo of Sarah Washington and Knut Aufermann (otherwise known as Mobile Radio), who create full audio spectrum soundscapes using hand-made electronic instruments and feedback. Micro radio transmission is an integral part of their instrumentation. In 2004 they were members of a collaborative group tour curated by Aufermann: FEEDBACK: order from noise, which featured foremost experimental composers and musicians including Alvin Lucier, Nic Collins and Otomo Yoshihide.
For examples of some of their other collaborations and radio projects visit:
http://tonictrain.klingt.org
http://mobile-radio.net
Video:
http://vimeo.com/63739179
radio essay by Tisha Mukarji
Tisha Mukarji is a pianist, composer, and artist. She holds an M.F.A from the Malmö Art Academy in Fine Arts and has performed and recorded her work extensively in Europe. She is the author of Auscultation (Berlin:Argobooks, 2010), and has CD releases on Creative Sourves Records (D is for Din, 2006) and Another Timbre (Endspace, 2008).
live Radio show by Sissi FM
live stream at rebootFM