Wilde Nacht des wilden Films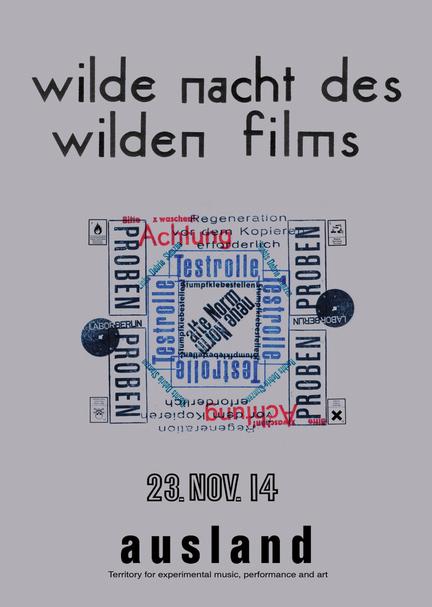 LaborBerlin e.V is an independent film association whose main activity is to provide access to analog film production. Based in Wedding the collective space functions both as meeting point for artists and filmmakers to exchange experience as well as a workspace where members can produce works using analog film equipment in a DIY basis.

Also a part of its regular activities are the organisation of workshops and screenings that build a dialogue between the local and the international community of filmmakers and the public.

For this anniversary evening in ausland LaborBerlin prepared a program divided in three blocks of one hour each. The first block will present early works made by LaborBerlin members, the second and third will features recent works (since 2010) and film performances produced in LaborBerlin.

For more information please visit:
http://www.laborberlin-film.org/

Labor Berlin e.V. ist ein unabhängiges Filmkollektiv dessen Hauptanliegen darin liegt, Zugang zu analoger Filmproduktion zu schaffen. Seinen Sitz hat das Kollektiv in Wedding – im Labor können Mitglieder Filmwerke mit analogem Equipment nach dem DiY Prinzip produzieren. Das Labor versteht sich als Ort an dem sich Künstler und Filmschaffende treffen, um künstlerische sowie technische Erfahrungen auszutauschen.

Teil der Aktivität von LaborBerlin ist das Organisieren von regelmäßigen Workshops und Screenings, die einen Dialog anstoßen zwischen der lokalen und internationalen Filmemacher-Community und der Öffentlichkeit.

Für das LaborBerlin Screening im Ausland wird ein Programm von drei 1-stündigen Blocks präsentiert:
 Der Erste besteht aus frühen Film-Arbeiten, die vom Labor-Mitgliedern produziert wurden. Im Zweiten und Dritten werden aktuelle Arbeiten gezeigt (ab 2010), einen Film Programm und Film-Performances alle im LaborBerlin entstanden.