Window Magic, Els Vandeweyer, Hanna Hartman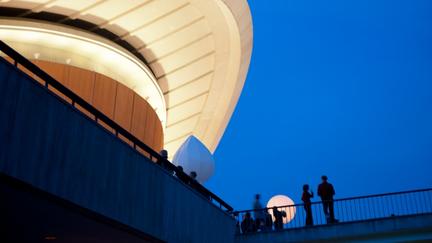 ausland has the pleasure to curate tonight's concerts as part of HKW's summer program 20 Sunsets. The series presents live music, films, readings and talks as an open air format on the roof terrace of HKW between July 16th - August 23rd.
The current difficult circumstances make it impossible for us to host concerts in our own venue, so we're inviting you over to HKW for the three solo sets by
WINDOW MAGIC (20:00h)
www.windowmagic.pm
ELS VANDEWEYER (20:40h)
www.elsvandeweyer.com
HANNA HARTMAN (21:20h)
www.hannahartman.de
Doors: 19:00h | www.hkw.de
Tickets (10€/8€): www.tickets.kbb.eu/hkw
@facebook
The concerts will be followed by two film screenings:
"Dear Animal" by Maha Maamoun
"Her Name Was Europa" by Anja Dornieden & Juan David Gonzáles Monroy
Please check out www.hkw.de for the full programme of 20 Sunsets.
"Summer will be different in Berlin this year. Community and gathering are being reorganized during the pandemic. The outdoors is taking on new importance. In this exceptional time, the arts are also leaving interior spaces and rediscovering the outdoors. For the 20 Sunsets festival, HKW invites the city to its rooftop terrace at dusk. On six weekends there will be concert sets, films, readings, and talks by and with Berlin's international artists and cultural professionals."
Note: In case the weather forecast for the evening looks too bad, the event will be cancelled. HKW will take the decision on the very day around ca. 15:00h and inform about an eventual cancellation.