Yuri Landmann Workshops Ensemble Performance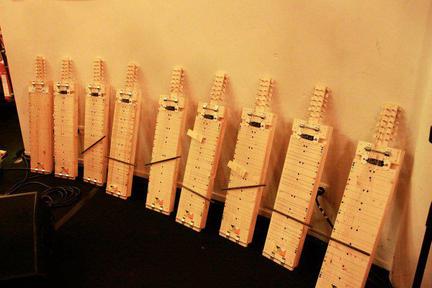 Come and see the Triochord, Home Swinger, White Eagle Guitar and Caterpillar Drum Guitar live at ausland tonight! Freshly built in the last Trockenschwimmen Workshop days, we have an ensemble and a solo performance by Yuri Landmann.
"Over the last ten years Yuri Landman has established himself as a leading instrument maker, developing experimental custom instruments for the likes of Sonic Youth, HEALTH, Liam Finn, Liars, Blood Red Shoes, and Jad Fair of Half Japanese, as well as making his own music." Don't Panic
From october 27th to 29th, Yuri Landman presents Do-It-Yourself workshops whereby participants will leave with a finished electric instrument as well as a strong understanding of its structure and workings. The difficult soldering part will be taken care of by Yuri. Participants require no special skills and the difficulty of the process has been compared to building a piece of IKEA furniture!
In advance of the workshop Yuri will prepare the component parts of the instrument for the participant to use in construction. These include: 4 pieces of ready shaped wood in the required sizes and predrilled with holes, easy to employ machine heads for the strings, one pickup (good quality, equal to Fender), an on/off switch, a jack output, a few screws, bolts and nuts and some metal for the bridges, as well as two sets of strings.