Trigger
Submitted by
Mathias
on Tue, 2011-11-29 19:40.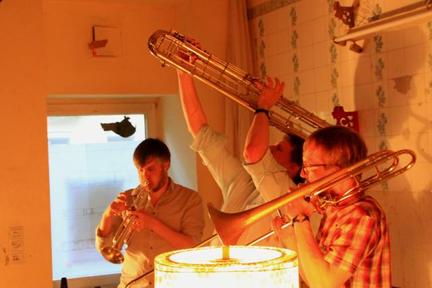 Nils Ostendorf, trumpet
Matthias Müller, trombone
Chris Heenan, alto saxophone & contrabass clarinet
The Berlin-based improvising wind trio Trigger was formed in 2009 and works on creating a unitary sound of discrete sonic layers. Through the use of multiphonics, circular breathing, and other extended techniques, Trigger forges a music of gradual depth with sudden shifts in texture and mood. The current direction of the trio is a music of long continous masses of sound.
Nils Ostendorf currently writes music for the theater while also being fairly active with various experimental music projects, such as "The Silencers" (with Kim Myhr, Toma Gouband, Benoit Delbecq), "Subsurface" (with Phillip Zoubek, Philippe Lauzier), as well as, an ongoing duo with French saxophonist Michel Doneda.
www.myspace.com/nilsostendorf
Matthias Müller performs in experimental and new music contexts frequently in Berlin. Some current projects include "Superimpose" (with Christian Marien), "The Astronomical Unit" (with Clayton Thomas), "RMF" (with Olaf Rupp, Rudi Fischerlehner), and the 24-improvisers group, "Splitter Orchester."
www.matthiasmueller.net
Chris Heenan is an active organiser and performer of experimental music, performing in large and small configurations. Some current projects include: "Pivot" (with Liz Allbee), a duo with percussionist Michael Vorfeld, and "Nordzucker" (with Birgit Ulher, Michael Maierhof, Lars Scherzberg). He is also a member of "Splitter Orchester."
www.chrisheenan.com