hotelgäste + Trigger +Birgit Ulher/Gregory Büttner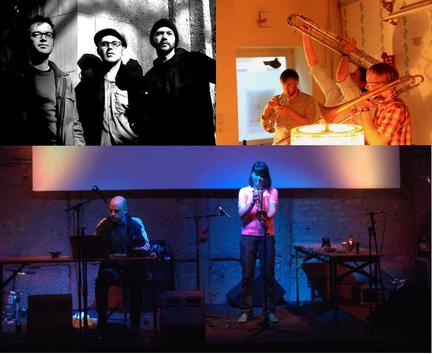 hotelgäste:
Michael Thieke - clarinet, zither, xylophone
Derek Shirley - double bass
Dave Bennett - guitar, tape recorder, shortwave radio
Trigger:
Nils Ostendorf - trumpet
Matthias Müller - trombone
Chris Heenan - alto saxophone, contrabass clarinet
Duo Birgit Ulher / Gregory Büttner:
Birgit Ulher - trumpet, speaker, mutes
Gregory Büttner - computer
The Berlin-based Canadian/German trio hotelgäste draws upon diverse experiences within their environment to explore a new music created in the moment; sonic densities and vast cold silences are juxtaposed to bring architectural like structural integrity to their improvisations. Population and solitude, traffic jams and back country ways, amplification and quietness, acoustic and electric, exploratory and communication, and of course conversations with the many different guests make this hotel one of the most exciting musical experiences of recent past.
The Berlin-based improvising wind trio Trigger was formed in 2009 and works on creating a unitary sound of discrete sonic layers. Through the use of multiphonics, circular breathing, and other extended techniques, Trigger forges a music of gradual depth with sudden shifts in texture and mood. The current direction of the trio is a music of long continous masses of sound.
The duo of Gregory Büttner and birgit Ulher is based in Hamburg. Gregory Büttner plays sounds from a computer through various small speaker, which Birgit Ulher uses as mutes for her trumpet. This way the trumpet sounds and the electroacoustic sounds are modulated by the acoustic resonance chamber of the trumpet. The trumpet functions here simultaneously as transmitter and a receiver. Since 2008 they played several concerts in Germany and Europe, at Ahornfelder Festival in Leipzig, Avantgarde Festival Schiphorst, Ny Musikk in Bergen (Norway), Fylkingen in Stockholm, blurred edges Festival in Hamburg, Prinzhorn Sammlung Heidelberg, amongst others. Their first release "Tehricks", a mini cd with 3 tracks was published by 1000füssler in February 2010.
Einlass: 21:00 Uhr
Beginn: 21:30 Uhr