Hotelgäste
Submitted by
christina
on Tue, 2009-03-24 18:40.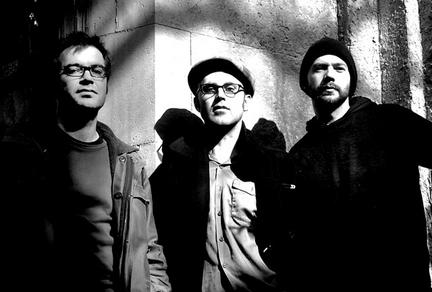 Michael Thieke - clarinet, zither, xylophone
Derek Shirley - double bass
Dave Bennett - guitar, tape recorder, shortwave radio
The Berlin-based Canadian/German trio hotelgäste draws upon diverse experiences within their environment to explore a new music created in the moment; sonic densities and vast cold silences are juxtaposed to bring architectural like structural integrity to their improvisations. Population and solitude, traffic jams and back country ways, amplification and quietness, acoustic and electric, exploratory and communication, and of course conversations with the many different guests make this hotel one of the most exciting musical experiences of recent past.
reviews:
"A pleasure to hear: improvised enough, but also a bit composed, played freely among tight plans, crossing the boundaries of old and new improvisation. Quite nice!" Frans de Waard, VITAL WEEKLY (NL) 09/2005
"A wonderful suspended soundscape. In its cohesiveness and variety of inputs, this is a cd to be listened to many times." Eugenio Maggi, CHAIN DLK (USA) 11/2005
"The trio works amazingly well, with balanced interaction between silence and noise, sound layers of the AMM school and tones that move between piercing notes and percussive timbres…This is the new berlin school, captured at its best!" Alfredo Rastelli, SANDS-ZINE (I) 11/2005
"A sensitive and well-executed set of six improvisations." Dan Warburton, PARISTRANSATLANTIC (F) 11/2005
"Improvisierte Musik sollte auf einem soliden Fundament aus Erfahrung, Können und Flexibilität ruhen – die Hotelgäste verfügen über all dies in hinreichendem Maße. Guten Appetit!" Karsten Zimalla, WESTZEIT (D) 12/2005
Was wir hören, sind die Geräusche der Wand, der Oberflächen, das Dahinter und Darunter bleibt halluzinatorisch. Das auf alle möglichen Spektakel geeichte Alltagsbewusstsein versagt und beugt sich verdutzt über ein ominöses Karnickelloch." Rigobert Dittmann, BAD ALCHEMY (D) 01/2006
"It is pretty impressive when a band succeeds. This band succeeds." NEO-ZINE (USA) 12/2005
"A play of reciprocal influences in constant metamorphosis."MODISTI.COM (E) 01/2006
"Flowers has the slight edge. Dense timbres, sonic juxtapositions and structural quiet are as much a part in the tunes as clearly defined instrumental sounds…Undoubtedly Thieke and his associates have many CDs ahead of them." Ken Waxman, ONE FINAL NOTE (USA) 01/2006