Ada Rave
Submitted by
florian
on Sun, 2023-08-27 19:08.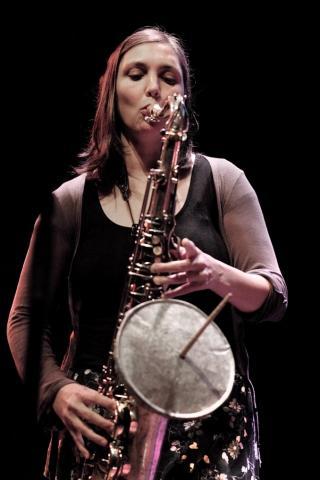 Ada Rave ist eine argentinische Saxophonistin, Improvisationsmusikerin und Komponistin. Sie hat einen ihr eigenen, persönlichen Zugang zum Klang des Instruments, der sich dabei sowohl darauf konzentriert, ein lyrisches Spiel auszudrücken alsauch die klanglichen Möglichkeiten und Eigenschaften durch zahllose Techniken zu erforschen und dabei die konventionellen Pfade zu verlassen. Ada Rave hat sich ab dem Jahr 2000 in der Jazz- und Improvisationsszene von Buenos Aires einen Namen erspielt. 2013 übersiedelte sie nach Amsterdam, um in der dortigen Szene ihre Arbeit fortzusetzen.
+++ english +++
Ada Rave is an Argentinian saxophonist, improviser and composer. She is a researcher of a personal approach to the sound of her instrument, focused in her own way to express a lyrical playing as well as exploring sounds through a wide variety of techniques that goes beyond the conventional ways. Ada Rave has integrated the jazz and free improvisation scene of Buenos Aires, Argentina, since 2000 and decided to move to Amsterdam in 2013 to continue her researching in the field of improvised music.