Hearth / Olaf Rupp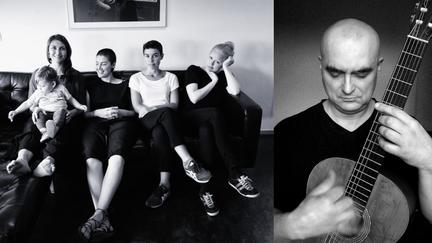 Doors 20.30 Uhr | Concerts 21 Uhr | Tickets (AK | Box Office) € 10,--
Hearth
Kaja Draksler – piano
Ada Rave – tenor saxophone, clarinet
Mette Rasmussen – alto saxophone
Susana Santos Silva – trumpet
susanasantossilva.com/hearth
Olaf Rupp – acoustic and electric guitar
audiosemantics.de
+++ scroll down for english +++
Hearth ist ein Quartett, das 4 einzigartige Stimmen auf ihren jeweiligen Instrumenten vereint: Kaja Draksler am Piano, Ada Rave an Tenorsaxophon und Klarinette, Mette Rasmussen am Altsaxofon sowie Susana Santos Silva an der Tromete.
Alle vier sind in der europäischen Szene und weit darüber hinaus etabliert und gastieren mit ihren eigenen Formationen und als Teil diverser Projekte auf den wichtigsten Bühnen. Hearth veröffentlichten ihr erstes Album Melt beim Label Clean Feed im April 2021.
"Einen Wandteppich aus musikalischen Texturen" bezeichnet Linda Cooper die Musik von Hearth. "Die vier Instrumentalistinnen haben sich das Unbekannte zu eigen gemacht, sie nehmen sich die Freiheit, ungewohnte Wege auf fesselnde Weise zu beschreiten und bieten den Zuhörenden erfrischende musikalische Erfahrungen."
Peter Margasak schreibt im Downbeat-Magazin von Oktober 2016 "Das Quartett bewegte sich nahtlos zwischen heiterem Zischen, chaotischem Geplapper und artikulierter Konversation."
Olaf Rupp spielt Improvisierte Musik auf der akustischen und elektrischen Gitarre. Der organische Fluss seiner Musik wird weder durch Zufall noch durch dominante, willentliche Entscheidungen gesteuert. Für Olaf Rupp muss Konzentration, Aufmerksamkeit und Energie gleichermaßen in lauter und schneller, als auch in leiser und gedämpfter Spielweise vorhanden sein. In seinem Werk erforscht er Sound Murmurationen, sprich wie Bewegungscluster als ein einziger, sich bewegender, verdichteter Klang wahrgenommen werden können. Dabei ist für Olaf Rupp jede einzelne Note ein charakteristischer Farbpunkt in einer Klangmatrix und diese "Tonfarbe" ist wichtiger, als die Position dieser Note in üblichen Ordnungssystemen. Eine Folge von Noten erzeugt für ihn somit einen bewegten Klang, keine Melodie. Und die eigene Farbe jeder Note ist ihm wichtiger als die melodische oder die harmonische Aufladung, die Hörende ihr angedeihen lassen können - oder eben auch nicht.
Neben vielen Kooperationen sind bisher fünf Soloalben von Olaf Rupp bei den Labels FMP, RELATIVE PITCH, GROB und GLIGG erschienen.
Gefördert von der Berliner Senatsverwaltung für Kultur und Gesellschaftlichen Zusammenhalt.
Medienpartner Digital in Berlin.
+++ english +++
Hearth is a quartet that unites 4 unique voices on their dedicated instruments: Kaja Draksler on piano, Ada Rave on tenor saxophone and clarinet, Mette Rasmussen on alto saxophone and Susana Santos Silva on trumpet.
All four are established in the European scene and far beyond, performing on the most important stages, both as leaders of their own groups and in various highly acclaimed projects. Hearth released their first album Melt via Clean Feed in April 2021.
"A tapestry of musical textures" is how Linda Cooper describes the music of Hearth. "These four instrumentalists have embraced the unknown, the freedom to take unaccustomed directions in compelling ways, giving the listener refreshing musical experiences."
Peter Margasak wrote in Downbeat Magazine, October 2016 "The quartet moved seamlessly between serene sibilance, chaotic chatter and articulate conversation."
Olaf Rupp plays Improvised Music on the acoustic and electric guitar. The organic flow of his music is guided neither by chance nor by dominant, willful decisions. To him the same level of focus and attentive energy should be present in loud and fast music as well as in softer, more subdued kind of playing. In all his music he explores how motion-clusters can be perceived as one agglomerated sound in motion. This means that every note is a dot in a higher matrix and its color is more important than the position of that note in any hierarchic classification system. So a sequence of notes creates a moving sound, not a melody. And the intrinsic color of every note is more important than the melodic or harmonic burden which the listener may or may not put on it.
Besides many cooperations five solo albums are published so far on the labels FMP, RELATIVE PITCH, GROB and GLIGG.
Supported by Berlin Senate Departement for Culture and Community.
Presented by Digital in Berlin.