Alessandro Bosetti-Recipe for Speech Loop Marathon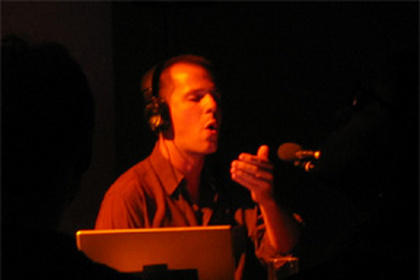 Alessandro Bosetti
Recipe for Speech Loop Marathon ( with Guests ).
Write one "speech loop", a loops of texts and memorize them. Transcribe the pitches of those spoken recordings and memorize the loop with that pitches and intonation so to be able to repeat it in exact synchronicity and unison with the original.
The loop should be in between 30 seconds and one minute long. It should be based on fragments of abstract poetry that have no apparent relation with the locations where they are performed.
Prepare a pre recorded reference track with the speech-melody of the loop as played by an electric piano or a synth, for example. This track will play in the background during the whole duration of the performanc.
Prepare several instruments and amplifiers, plugged in a ready to be played in the same room where you will perform. Invite guests, musicians and non musicians alike to join the performance by producing sound at any time and for any duration they may see fit.
Perform the loop, with no pauses for five hours. Never deviate from the original phrase and speech melody. Keep your voice synchronized with the reference track while repeating the loop over and over. Keep in unisono with the track. The vocal interpretation can change overtime but you will have to keep the time, the pitches and the text as in the original. Your voice and the reference track will be amplified over a pa.
Guest will sit in and produce sound along with the loop. They will start and stop, come and go as they please and so will do the audience. Only you will repeat the loop, over and over without deviating from it.
(Born in Italy, 1973) is a sound artist, composer and performer. He's main focus is in the fringe area between spoken language and music. He created a series of highly compelling works where relational aesthetics meet innovative composition. Field researches, interviews and conversations often build the basis for his abstract compositions. Among them are pieces like Il Fiore della Bocca (Rossbin/DLR 2005), a work on the vocality of the mentally and physically impaired and African Feedback, a collaborative scrutiny on experimental music in West Africa (Errant Bodies press, 2004). Since 2001 he has been engaged in many major radio art productions with several public and net radios in Europe and USA, and created a vast body of work of hybrid text-sound and radio compositions. He also received commissions to compose pieces for ensembles as KNM Berlin and Die Maulwerker.
Alessandro Bosetti is an emotional performer that has consistently toured in Europe, Asia and the United States. He's been presenting solo sets for voice and electronics blurring the line between electro acoustic composition, text-sound pieces, song and performance. Between 2007 and 2009 he created the speaking machine Mask Mirror with the support of STEIM in Amsterdam and Harvestworks digital centre in NYC and performed extensively with it. Since 2009, continuing his quest on the musicality of spoken language he's been involved in exploring repetitive speech-loop forms as a solo artist and with his ensemble Trophies with drummer Tony Buck and guitarist Kenta Nagai.
More:
Einlass: 18:00 Uhr
Beginn: 19:00 Uhr pünktlich
Im Rahmen von ohrenstrand.net