Alessandro Bosetti
Submitted by
caribu
on Sun, 2010-08-15 13:45.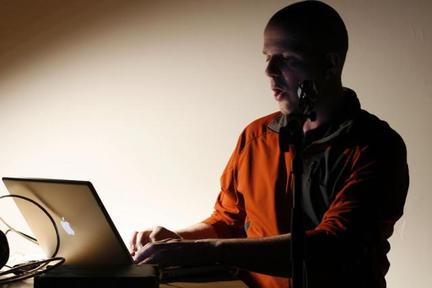 From Kurt Gottschalk article on "Signal to Noise" :
....Bosetti's spoken introduction blurs directly into the performance—talking about the piece becomes the piece itself. As he relates something about a seaside tragedy, he fades in a percussive track from his laptop. The text is central to the piece, yet willfully obscured. The rumble of recordings of crashing waves gives way to a soft sine wave and spoken text from the computer. He continues the story, or starts a new one—at this point context is lost— singing "This is not the same as chanting," something like a cantor. There are sylables, lots of syllables, something about a killing infused with Casio-like tones doubling the simple melody. More sounds are folded in. The textual repetitions continue "on the verge of finding a truth about a killing." His tone is strangely foreboding yet matter-of-fact.
The concert is what Bosetti refers to as "music as a spoken language": the phrase rolls off his tongue easily and often in conversation. It's something like what Steve Reich explored in works like Different Trains and It's Gonna Rain, but focusing even more narrowly on cadence and found melody. Bosetti himself cites the language studies of Robert Ashley and René Lussier as inspirations for his explorations into the overlaps of spoken word, meaning and musicality ....
Alessandro Bosetti is a sound artist, composer and performer currently based in Berlin. He's main focus is in the fringe area between spoken language and music. He created a series of highly compelling works where relational aesthetics meets innovative composition. Since 2001 he has been engaged in major radio art productions with almost all national radios in Europe, and created a vast body of work of hybrid, award winning, text-sound and radio compositions . Among them, pieces like Il Fiore della Bocca (Rossbin/DLR 2005), a work on the vocality of the mentally and physically impaired and African Feedback, a collaborative scrutiny on experimental music in West Africa (Errant Bodies press, 2004) are considered classic contributions to the genre. Field research and interviews often build the basis for his abstract compositions along with electro-acoustic and acoustic collages, relational strategies, trained and untrained instrumental practices, vocal explorations and digital manipulations. Alessandro Bosetti is an emotional performer that has consistently toured in Europe, Asia and the United States. He's been presenting solo sets for voice and electronics blurring the line between categories such as electro acoustic composition, text-sound pieces, song and
performance. Most recently he's been involved in exploring repetitive speech-loop forms as a solo artist and with his ensemble Trophies.