Bosetti/Rupp/Nagai + Schick/Steidle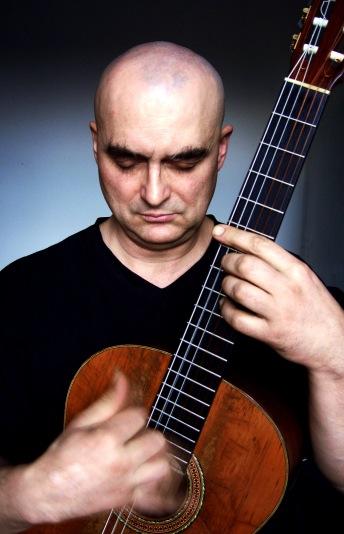 Alessandro Bosetti - voice, electronics
Kenta Nagai - guitar
Olaf Rupp - guitar
Two thirds of Trophies meet master guitar player Olaf Rupp. This will be a special encounter!
Alessandro Bosetti is a sound artist, composer and performer currently based in Berlin. He's main focus is in the fringe area between spoken language and music. He created a series of highly compelling works where relational aesthetics meets innovative composition. Kenta Nagai is a sound and visual artist based in New York City. He works with acoustic and electronic sound, visual media and live performance. After completing undergraduate studies at Berklee College of Music in Boston (BA, 1996). Olaf Rupp started at the age of twelve as an autodidact to play what might be called today Improvised Music. His way of holding the guitar in an upright position is inspired by chinese Pipa players. He developped some playing techniques like for instance rasgueados, arpeggios, picados and tremolos in such a way that they can be used for overtone and cluster effects to create new, "virtual" sounds.

Ignaz Schick - turntable, live-electronics
Olli Steidle - drums, percussion
Ignaz Schick and Olli Steidle formed a new exciting duo.
Turntablist, sound artist, performer & composer. In his youth he studied the saxophone and performed in free jazz and avant rock bands. At the same time he was getting obsessed with multitrack tape machines, record players and effect boxes and he started experimenting with many different instruments and sound making devices. After college he briefly studied at the Academy of Fine Arts in Munich and worked for several years as an assistent for contemporary composer Josef Anton Riedl. Since the late 1995 he works and lives in Berlin where he became an active and integral force of the so-called "Berlin Nouvelle Vague" and the blossoming "real time music" scene. Oliver Steidle studierte Musik am Nürnberger Konservatorium und lebt seit 2000 in Berlin. Er ist Gründer und Namensgeber der Freejazz Combo "SoKo Steidle" (3 CDs bisher), spielt seit 2002 in der Band "Der Rote Bereich" und ist darüber hinaus in unzähligen Formationen als Komponist, Ideengeber und Sideman tätig ("Klima Kalima", "Rowk Music", "Tama Trio", "Philm", "ddAa", "Die dicken Finger", "John Schröder Quartett", "Steidle/Erdmann-Lenina"). Musikalisch bewegt er sich zwischen den Sparten Improvisation und Neue Musik. Er war beteiligt an Projekten mit Michael Wertmüller und dem Ensemble Courage, sowie an Konzerten mit Peter Brötzmann, Tristan Honsinger, Louis Sclavis, Simon Nabatov, Alexander von Schlippenbach, Sean Bergin, Aki Takase, Uli Gumpert, Axel Dörner, Ab Baars, Trevor Dunn, u.v.a.
doors open 8:30 pm
concert starts 9:00 pm sharp