Nosova/Bosetti + Vandeweyer/Graewe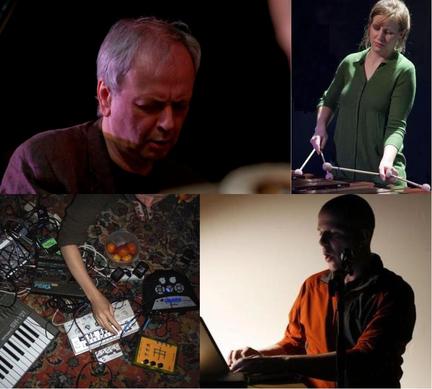 biegungen im ausland present two wonderful duos!
Vandeweyer/Gräwe
Els Vandeweyer - vibraphone
Georg Gräwe - piano
Bosetti/Nosova
Alessandro Bosetti - electronics, voice
Olga Nosova - drums, electronics, voice
About Els Vandeweyer and Georg Gräwe
"The collaboration of Georg Gräwe and Els Vandeweyer started in November 2009. It was a top-class evening taking place in the Viennese Jazz café 'Miles Smiles'. A first meeting during which a lot if not everything was possible, made up from intimate as well as from acute sound discussions and the willingness to respond to each other uncompromisingly. Meanwhile Els Vandeweyer has repeatedly been participating in other projects of Georg Gräwe, lastly in the newly founded SonicFiction Orchestra. One can be curious about how this musical dialogue has been developed!" (Reinhard Stöger, Wien im Januar 2013)
Composer and pianist Georg Gräwe clearly has to be counted to the most important and best pianists within the tradition of Free Improvisation. He began composing and performing professionally at the age of 15. He has since been leading a variety of ensembles?ranging from trio to chamber orchestra formats?which have involved some of the leading instrumentalists in contemporary music. Graewe has had a long-standing trio with Dutch cellist Ernst Reijseger and U.S. percussionist Gerry Hemingway since 1989 and has also performed and recorded with Anthony Braxton, Evan Parker (new album from June 2012: Dortmund Variations), Dave Douglas, Phil Minton, Roscoe Mitchell, Barry Guy, Barre Phillips, Hamid Drake, John Butcher among many others. His compositions, which include chamber music and works for full orchestra as well as scores for films, theatre productions, radio drama and video, have been performed and broadcast around the world.
Els Vandeweyer is a Belgian vibraphonist and composer currently living in Berlin, who specialises in exploring the middle-ground between classical, jazz and free improvised music. Vandeweyer began her musical career on the classical path, focusing on contemporary pieces while studying at a performing arts school in Antwerp, but when she noticed how many pieces simulated the feel of improvised music she yearned to play the real thing.
She decided to study jazz at the Royal Conservatory of Brussels where she graduated in June 2008. In Portugal she co-founded the IMI Kollektief quintet, with whom she recorded her first album ´Snug as a Gun` for Clean Feed-label. In Oslo, Norway, she studied worked sporadically with Ingebrigt Haaker Flaten and Paal Nilssen-Love. After Norway, Ken Vandermark invited her to spend a few weeks performing in Chicago and so she played with Fred Lonberg-Holm, Kent Kessler, Tim Daisy and Jeff Parker among many others.
About Alessandro Bosetti and Olga Nosova
The meeting of Olga Nosova and Alessandro Bosetti brought two artists together, who are both extensively working with their voice. Of equal importance is their use of electronics modifying and supplementing their sung and spoken material. Nosova's raw energy, as a drummer coming from a noise and free jazz background, meets with Bosetti's soft and highly controlled, often loop based chants, resulting in an exciting and intensive layered soundscape, full of irregular rhythmic patterns and almost ritualistic dronescapes.
Olga Nosova startetd her musical activity 2001 in Moscow. She played drums with different local bands, representing prog-rock, punk jazz, free improv and the industrial scene. She collaborates with many Russian and international projects, musicians and sound artists and she is intensively touring and participating at different festivals, showcases and special events.
Alessandro Bosetti's main focus is in the fringe area between spoken language and music. He created a series of highly compelling works where relational aesthetics meets innovative composition. Since 2001 he has been engaged in major radio art productions with almost all national radios in Europe, and created a vast body of work of hybrid, award winning, text-sound and radio compositions. He's been presenting solo sets for voice and electronics blurring the line between categories such as electroacoustic composition, text-sound pieces, song and performance.
Alessandro Bosetti about their duo: "Once I was walking in a field of drumsticks and I met a lawyer that told me : "If you want to be able to keep making music you have to be able to count till ten". I told the lawyer: "What would be the problem with that? I can count till ten just fine!".
And right away the lawyer disappeared and I found myself in the middle of a rollerbladers street demonstration where everyone was shouting "Enough with telecommunications!" . I approached one of the rollerbladers and asked "What's the problem with telecommunications? They make our life easier!" and, ohps, the rollerblader disappeared and I found myself inside the forest of english language and I met a metaphor. The metaphor did tell me: "If you want to keep being yourself you have to be as". I did then tell the metaphor "but " and the metaphor disappeared within the blink of a eye and now I am inside a patisserie in Paris. I buy one eclaire au chocolat and go out the door in the street. That is not a street in Paris but my bedroom. I suddenly fall asleep.
When i wake up I am alone and naked in the middle of a field of drumsticks, in Russia - the drumsticks again - and a miniaturized hologram of Mike Buongiorno a famous italian tv moderator of the 60's, is yelling way too loud into my ear: "Happines!". I try to smile and suddenly I am having a stroll in a big city when I meet a fortune teller from the future that asks me wether I considered the fact that playing a gig in Ausland on February 15th with Olga Nosova will prevent me from watching one of the Sanremo Festival nights in TV.
The festival - he points out - starts on the 12th and carries on for a few days.
I say that "You don't need to be from the future to know such things". And still, a sense of sadness falls upon me and I suddenly find myself in front of Marta Blazanovic of Biegungen telling me that if I really would like to watch the Sanremo Festival in Tv that night she would try to arrange another date for the gig to which I would say "No, don't worry, it's OK" and then Olga would wake me up once more and will say :"It's time" to which I would start screaming my head off and she would say "Not so loud, please" right when a gang of high school students is storming the venue stealing the PA right under our noses and running away unchallenged. What to do ? Going home. Going to bed. Falling asleep another time. In the middle of the night the phone rings and wakes me up. It's Maurice Ravel, he wants to talk. What should we talk about ? I tell him "Look Maurice, I had this gig yesterday, with Olga Nosova, in Ausland and"
doors open 8:30 pm
concert starts 9:00 pm sharp
8 Euro
Supported by INM