N.Wooley//A & E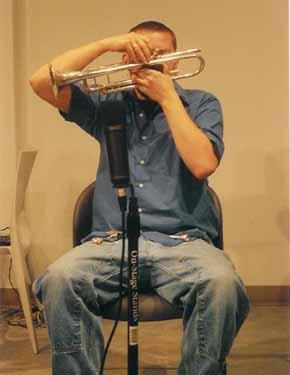 biegungen86:
Nate Wooley (trumpet)
~*~
A & E
Alessandro Bosetti (soprano sax, electronics, text projections)
Ernst Karel (trumpet, analog synth, text projections)

Nate Wooley grew up in a Finnish-American fishing village in Oregon. He has spent the rest of his life trying musically to find a way back to the peace and quiet of that time by whole-heartedly embracing the space between complete absorption in sound and relative absence of the same. He began playing trumpet professionally at age 13 with his father, and after studying he moved to Colorado where he studied more with Ron Miles, Art Lande, Fred Hess, and improvisation master Jack Wright. His tenure with Jack began to break Nate out of self-imposed molds and into the sound world that he has embraced as his own.
Nate performs solo trumpet improvisations as well as with his trio Blue Collar with Steve Swell and Tatsuya Nakatani. He has also performed regularly with Anthony Braxton, Bhob Rainey, Alessandro Bosetti, Fritz Welch, Herb Robertson, Kevin Norton, Tony Malaby, Randy Peterson, Scott Rosenberg, Matt Moran, Chris Speed, Andrew D'Angelo, Tim Barnes, Okkyung Lee, Assif Tsahar, and other improvisation luminaries.
A & E
a text-sound correspondance between Alessandro Bosetti and Ernst Karel
Alessandro Bosetti works on the musicality of spoken words and unusual aspects of spoken communication and produced text-sound compositions featured in live performances, radio broadcastings and recordings for labels of experimental music in. In his work he moves on the line between sound anthropology and composition. Field research and interviews often build the basis for his abstract compositions. As a saxophonist he has developed an original instrumental language that incorporates extended techniques, noises, and a strong influence from electronic music.



Ernst Karel's music tends to explore desolate abstraction, or abstract desolation, using trumpet together with analog electronics. He was based until recently in Chicago, where he performed and recorded with a wide variety of musicians. His work on trumpet and analog electronics includes the duo EKG with Kyle Bruckmann (oboe and analog electronics), whose most recent CD is "No sign" (Sedimental 2005). A trio recording with Bruckmann and Giuseppe Ielasi, recorded during their tour of the Northeastern U.S. in spring 2005, will be released on Formed Records in March 2006. 2004 releases included Television Power Electric's "2" (Kuro Neko Music) with Boris Hauf, Toshimaru Nakamura, and members of TV Pow, and "Relay Signals" (Lucky Kitchen) with Chicago improvisers Tim Daisy, Jason Ajemian, and Aram Shelton.