Donauwellen 1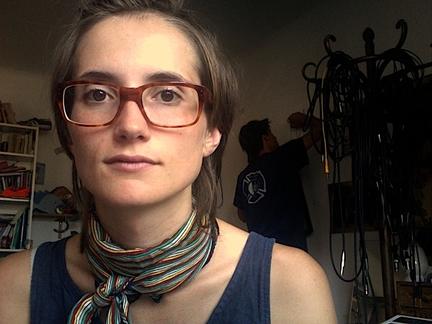 Zum ersten Konzert ist der in Berlin bereits gefeierte Alessandro Bossetti eingeladen. Dazu gibt es eine echt Wien/Berliner Melange mit Robert Schwarz und Klaus Janek, den global agierenden minimalistischen Wiener Frequenztüftler Peter Kutin und südtiroler Flair mit Caroline Profanter und Reinhard Dundler in dem Duo 2 kHz.
Alessandro Bossetti
Peter Kutin
2 kHz: Caroline Profanter + Reinhard Dundler
Robert Schwarz + Klaus Janek



Peter Kutin
Peter Kutin is currently residing in Vienna (since 2002), working as composer, soundartist and improvising musician. Completed studies of Electroacoustic Music at the University for Music and Performing Arts of Vienna (2004-7). Kutin is a founding member of 'dirac', 'V'Elak' and Garnison7.
He works on various musical projects (http://nituk.wordpress.com) and coordinates / curates different concert series and festivals for contemporary music and soundart.
Schwarz + Janek:
The fascination of expanding music into noise/sound and vice verse creates a content which doesn't need harmony or melody or groove to be transported. This describes best the musical dialog between Robert Schwarz (electronics) and Klaus Janek (doublebass/electronics).
Klaus Janek, classical and jazz trained, worked over a decade on acoustic solo doublebass, then he started to explore the combination of acoustic sound creation and loop/fx real time composition. He is touring worldwide and works in soundcreation for media (arte, zdf, 3sat) and architecture. www.klaus-janek.de
Robert Schwarz works in Vienna as an artist and composer. He studied architecture and computer music in Vienna and soundart at the Berlin University of the Arts. His installations are mostly spatial
translations of ideas into sound. Compositions, attached to objects and spaces as well as customised loudspeakers are essential elements of his works.
http://soundcloud.com/schwarz
2 kHz / Caroline Profanter + Reinhard Dundler:
Caroline Profanter (I) is an electroacoustic composer and performer. She studies computer music in Vienna since 2007. Classical piano instruction in younger days, starts early to experiment with tape collages, mostly with soundscape and voice recordings. Also learned playing cuatro, guitar and percussions in South America. Besides the musical development also engaged with experimental theatre, writing plays, acting and performing in different theatre groups in Perugia and Bolzano (I). Sound Projections of own compositions in different places in Vienna and Graz. Plays in Electroacoustic Improvisation Ensembles, such as the "Electronic Teatime", and the "Vienna Noise Orchestra". The live performance is a way to sensibilize for pure "sound" without traditional harmonics by sculpturing it in order to attain a spectral morphology in the space.

Reinhard Dundler (AUT) is a multi-instrumentalist, composer and performer. After starting his musical examination with turntableism and different percussion instruments, he studied electric bass at the Prayner Conservatory and took part in the lively jazz scene in Vienna, playing bass in various ensembles. Crossing over different band projects as instrumentalist, he began to experiment more and more with electronics and computer generated sounds and is currently studying computer music in Vienna. Plays in Electroacoustic Improvisation Ensembles and performs with laptop, voice, body and soul.
What´s the meaning of a red blue and yellow coloured plastic dolphin in a musical context?
2 kHz, is an electroacoustic music performing duo, formed in 2009.
Lead by a structural approach and a main conception for each performance, the live shows combine narrative and improvisational aspects. Pre-recorded sound samples referring to specific thematics are being transformed and spatialized, as well as adopted sound-"objects", often extracted from "everyday life", are subject of interaction between the two performing artists. Creating various sound environments, the musical result ranges from heavy textures to fragile gestures. The perception and the meaning of noise and sound is new in each place where music is projected. Loudspeakers are the actors, that are directed by sound during the live performance.
One of 2 kHz´s tape compositions is available for listening on http://www.elakwien.at/music.html
-
Diese Veranstaltung wird freundlicherweise von der SKE unterstützt.