Alexandra Spence
Submitted by
Mathias
on Wed, 2018-05-09 11:40.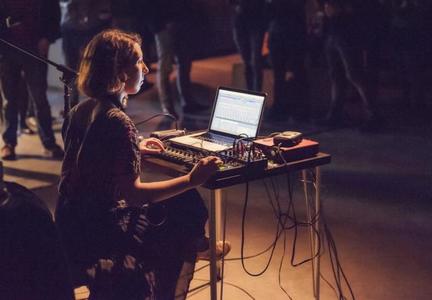 Alexandra Spence is an artist and musician from Sydney, Australia. She works within the mediums of installation, electroacoustic composition, improvised music and experimental performance.
Alex's practice draws from acoustic ecology, psychogeography and phenomenology to explore the idea of listening as an active practice, examining the ways in which our individual notions of place and identity are shaped and mediated through sound. Her work navigates notions of sonic materialism through an examination of resonance and vibration in everyday life. Through her practice Alex attempts to reimagine the intricate relationships between the listener, the object, and the surrounding environment as a kind of communion or conversation. Her aesthetic favours small sounds, hidden sonic processes, subtlety, quietude and unusual sound sources.
Alex has performed and presented work in concerts, festivals, symposiums and galleries in Australia, Canada, and Europe, including the Vancouver Art Gallery, CA; Destroy Vancouver, CA; Toronto International Electroacoustic Symposium, CA; the Engineroom International Sound Art Competition, UK; the Women In Sound/Women On Sound forum: Educating Girls in Sound, Lancaster, UK; the FKL Symposium, IT; the NOW Now Festival, Sydney, AU; Vivid Festival, Sydney, AU; UNSW Galleries & Gaffa Gallery, Sydney, AU. In collaboration with artist Katrina Stamatopoulos, Alex has presented work at Is This Art? dLux Media Arts, Sydney, AU and Festival Images Contre Nature, Marseille, FR. Alongside Rebecca Bruton she is the co-curator of Tidal~Signal Festival, which operates from a core set of anticolonial feminist ethics, and seeks to disrupt patterns of gender disparity in music programming of all genres, it currently takes place in Vancouver, CA. In 2016 Alex graduated from the Master of Fine Arts interdisciplinary arts program at Simon Fraser University in Vancouver, Canada. In 2017 she was awarded the Freedman Foundation Travelling Scholarship for Emerging Artists, which will enable her to study with David Toop and Chris Watson in the UK in 2018.